Content marketing in Nigeria might seem one of the hardest things for a business owner. The fact is that many people love reading memes and watching skits rather than engaging in analytical thinking from content. The few who really want to read good content would usually skim through, reading only portions that are interesting to them. For this reason and many more, some business owners do not want to engage in strategic content marketing in Nigeria.
Worse still, some go about content marketing in Nigeria the wrong way. So what you have is poor content marketing, for an audience with an already reduced attention span!
The result? Chaos!!
Your content marketing may not yield anything in Nigeria if you do it wrongly. This is why you need to learn tips for effective content marketing. Some of the tips for effective content marketing in Nigeria are:
having a definite goal for your business and content,
engaging the right audience,
building the right content strategy,
promoting your content, and
consistency.
Continue reading to see how you can engage these tips effectively in your business.
What is Content Marketing?
According to Content Market Institute, content marketing is a strategic approach focused on creating and distributing valuable, relevant, and consistent content to attract and retain a clearly-defined audience and, ultimately, drive profitable customer action.
From the definition above, we can readily see that content marketing is geared towards achieving a specific goal.
In simple terms, Dr. Testimony Olajire defines content marketing as using "content" to promote an idea, a business, a brand, a person, or anything to a target audience.
With the two definitions above, content marketing is a form of marketing that involves selling a product through content. There is always a goal to achieve while marketing your product through content.
Different authors use many definitions of content marketing on general search engines. However, as analyzed by Dr. Testimony Olajire, the true definition of content marketing comprises the following:
It involves planning
It involves content creation
It involves content distribution
It solves customers' needs; the content is relevant and valuable to the targeted audience.
It is more suitable for long-term than short-term goals
It is good for credibility, brand awareness, customer loyalty, conversion, and lead generation purposes.
So, to have proper content marketing in Nigeria, you must bear the aforementioned in mind to guide you.
Types of Content Marketing in Nigeria
There are many ways you can present your content to the right audience while marketing your product. The most important thing is to understand your product and how to use the necessary means to carry out your content marketing.
If you are considering how to execute content marketing in Nigeria today effectively, you can try the following types of content marketing:
Social Media Marketing
Blog Marketing
Podcasts
Video Content Marketing
Ad Content Marketing
Case Studies
eBooks
You can choose more than one type of content marketing to market your product. In doing this, however, your audience is the most important factor to consider. Check if your target audience engages with the content marketing type you have chosen. Don't assume. Take a survey. Ask your customers directly. Watch their interactions with content.
Using the same approach for two different businesses might not work well. But you can always try out different types of content marketing to see which best works for your business. Your business type largely determines what type of content marketing you would use. If you are into gym equipment, for instance, video content marketing should be one of your options. Podcasts might not work so well for you. But a podcast might be more effective if you are into motivation or personal development.
You can check out what we have for you here to see how you can best utilize some content marketing types in your business.
Why You Need Effective Content Marketing in Nigeria
The following are some of the reasons why you need effective content marketing to grow your business. Content marketing
1. Creates Brand Awareness
There are many businesses we do not know exist except through internet surfing. Content marketing makes your business/brand visible to many people beyond your region as long as you give the right content. Through content marketing, you create awareness for years. When you rank for a keyword on Google, you will always keep appearing as long as people are still searching for the keyword.
Get this: the fact that you are doing content marketing in Nigeria doesn't mean you can't have more customers from outside Nigeria. It is your content that gives value so that people can know you. Know what your prospects will love to hear and write for them.
2. Creates Trust for your Business / Credibility
Content marketing helps you to create trust for your business. That is, you can build your brand credibility through content marketing. When you give value as a brand, prospects see you as an authority in that field and customers can easily refer you to others.
Everyone respects the opinion of the smartest dude in class because he is assumed to know more than everyone else on the subject. You really don't want to get into an argument with such fellows on their topic! It's a no-brainer! People tend to trust you more if you consistently provide guidance and sound advice on a topic.
3. Generates leads and conversions
One of the reasons why you need content marketing in Nigeria is to generate more leads and conversions. Content marketing engages the reader and prompts them on the next action to take. Effective content marketing takes the reader through the sales funnel journey. Including a Call To Action (CTA) prompt in your content will help you generate more leads and conversions.
4. Increases business/brand visibility
Through SEO in creating your content, your business can easily rank more than people that have been in the business before you. You can easily drive more traffic if you rank on the first page of Google, which is achievable with the use of relevant keywords.
5. Educates the targeted audience
Content marketing ensures that your audience is educated about your brand and the product you sell. Besides your product's value, your content also adds more value to the audience. It is important to sell yourself while you educate your audience on every piece of information they need.
6. Differentiates you from your competition
Because you are giving your audience the right information, you stand out from the competition. Many people with the same business are not engaging their audience. They just keep telling them to buy and patronize. In Nigeria, many online vendors keep begging, harassing and blackmailing people into buying from them. Content marketing in Nigeria would differentiate you from your competitors. It would make your customers come to you naturally, organically, and you really don't have to do all the "please buy what we are selling," "up and active," "now trading," etc.
7. Gives direction to all other types of marketing
Content marketing directs all other types of marketing you might want to engage in. There is no marketing strategy that you want to employ that you won't need content. So, use your content rightly and engage your audience through any marketing type.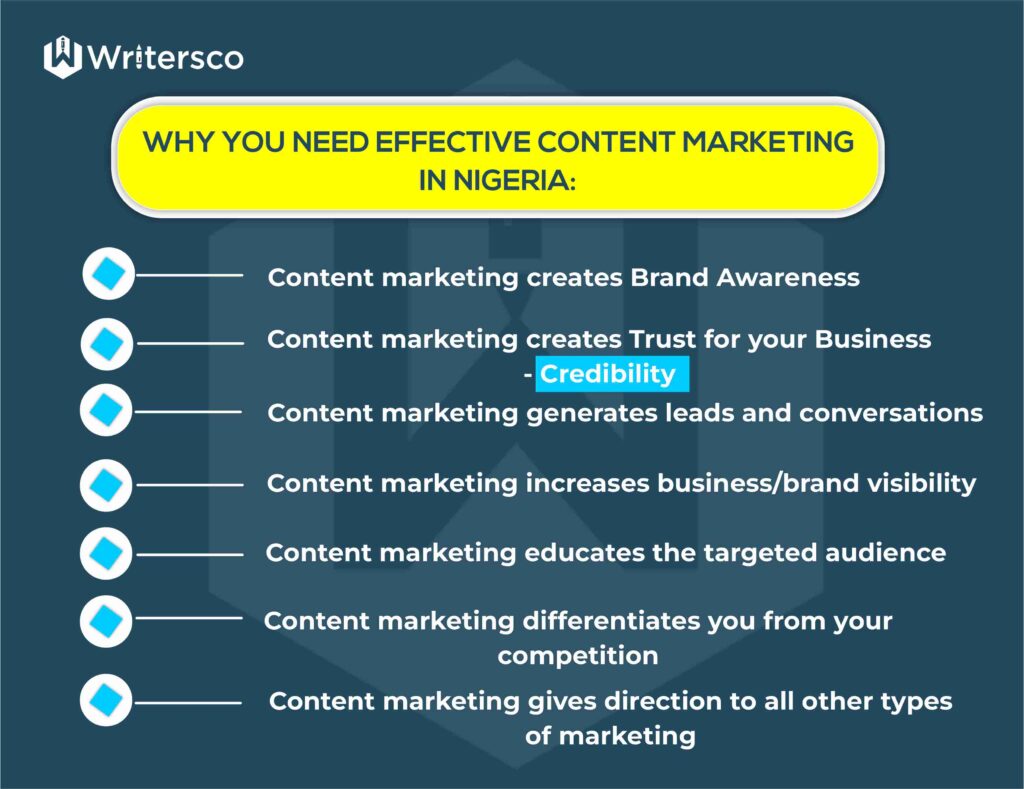 Tips for Effective Content Marketing in Nigeria
The following are 5 proven tips for effective content marketing in Nigeria that you can engage for your business growth.
1. Define your business and content goals and objectives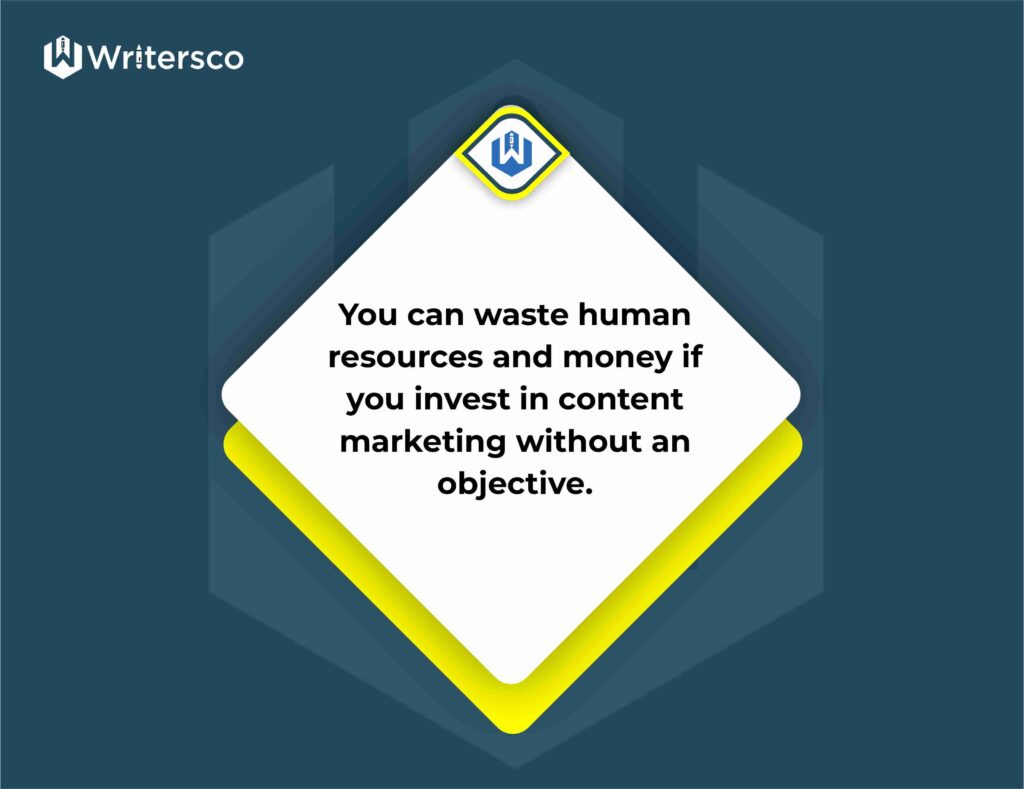 The first thing that you should consider before creating content marketing is defining your business goal. This is the most important thing. If your business doesn't have a focus, you won't know what content to create and you can't engage the right audience.
You can waste human resources and money if you invest in content marketing without an objective. More so, you can't measure your success rate when you don't have a focus. So, the first thing you have to do is to define your business objectives and goals properly. This will guide you through the other steps.
2. Know and focus on the right Audience
When you have fully defined your business objectives and goals, you can focus on the right audience. Identifying the right audience is essential so that all your effort won't be futile. Your content marketing won't convert if you focus on the wrong audience. Know the best way you can reach your audience and focus on it.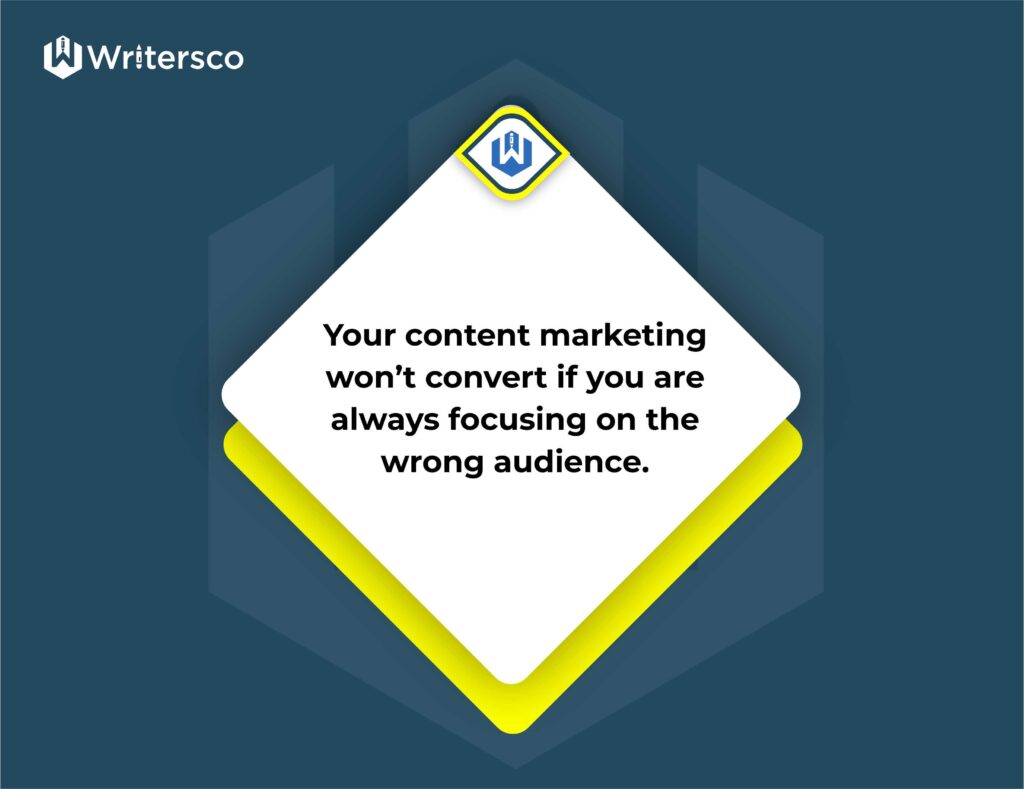 3. Build the right content strategy
You need more than creating content to give the right value to your audience; you must create a content marketing strategy. You must consider various things to add value to your audience consistently. Likewise, it would help if you plan with a calendar and consider other things for effective content marketing.
4. Promote your content
To reach more audiences, promote your content over different online platforms. Don't be restricted to only a platform. Apart from blogging, you can use Facebook, Instagram, Twitter ads, and Email marketing. You can generate more traffic to your blog post by promoting your content. This might cost a bit, but hey, it's for your business growth, and worth every penny.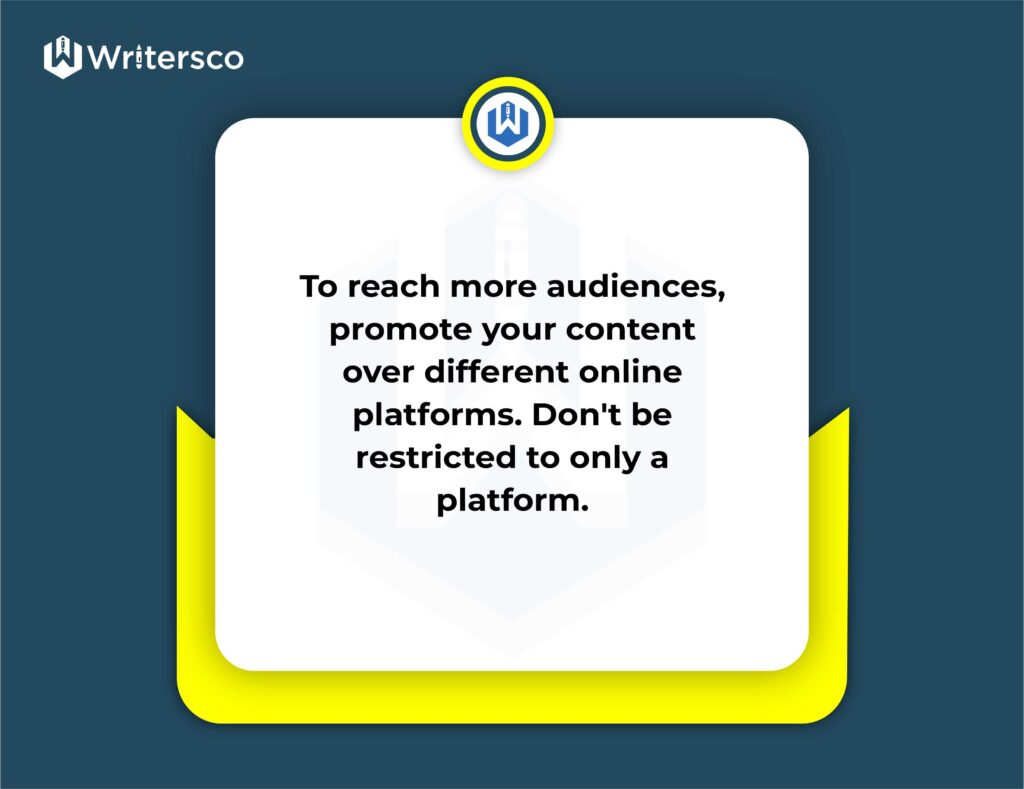 5. Stay focused and consistent
Another important thing that you must never joke with is consistency in the way you add value to your audience. Stay committed to giving relevant value every time to your audience. Don't stop writing. Be strategic about how you post and ensure you don't run out of content. To be safer, create a content calendar that will guide you for months. Build topics around your business.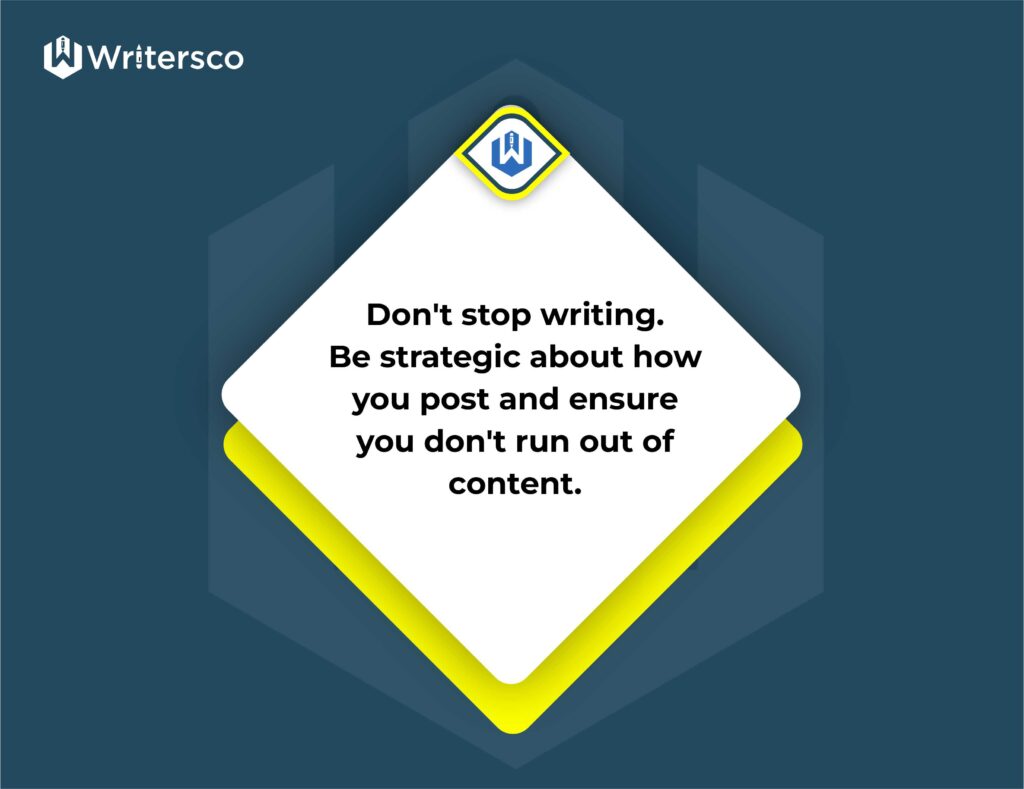 BONUS: Use an SEO company to achieve your goal
Creating the right content might be tedious for you as a business owner. Combining your work schedule and executing content marketing from strategy to publishing can be a herculean task. This is why you will need the service of an SEO company to help you fulfil your goal.
A professional SEO company will know the right content marketing strategy to use for your business in Nigeria. We are a professional SEO company at WritersCo, specializing in content marketing in Nigeria. Reach out to us, and we can help you rank your business in the shortest possible time.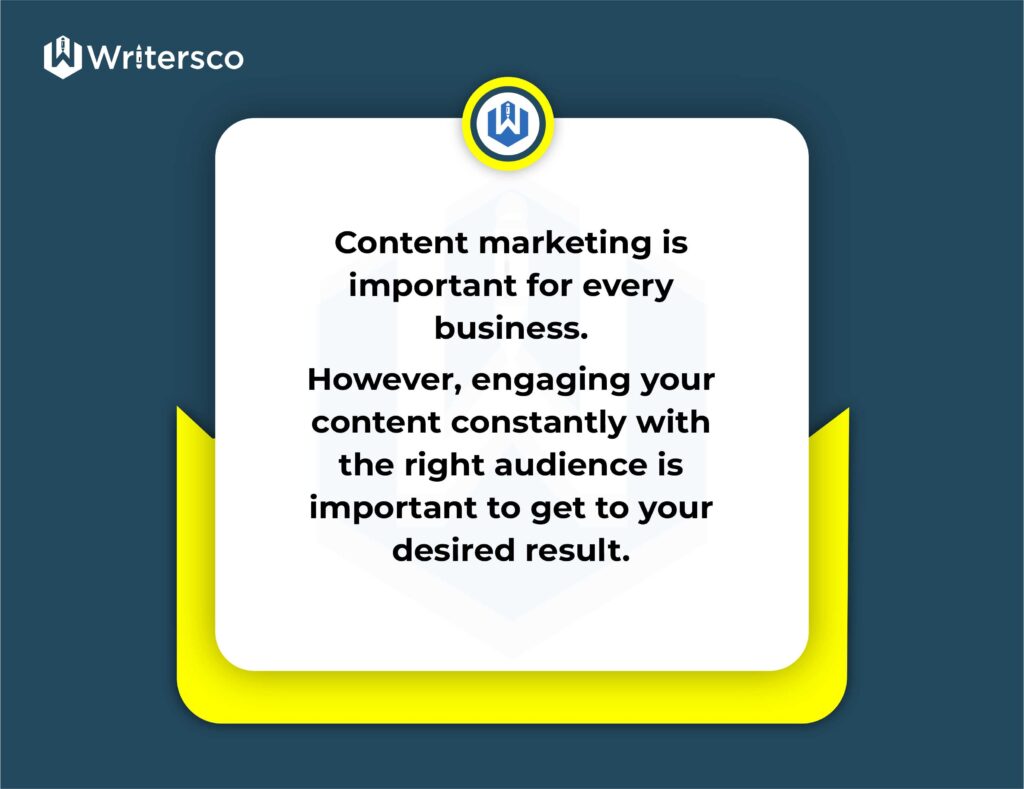 Conclusion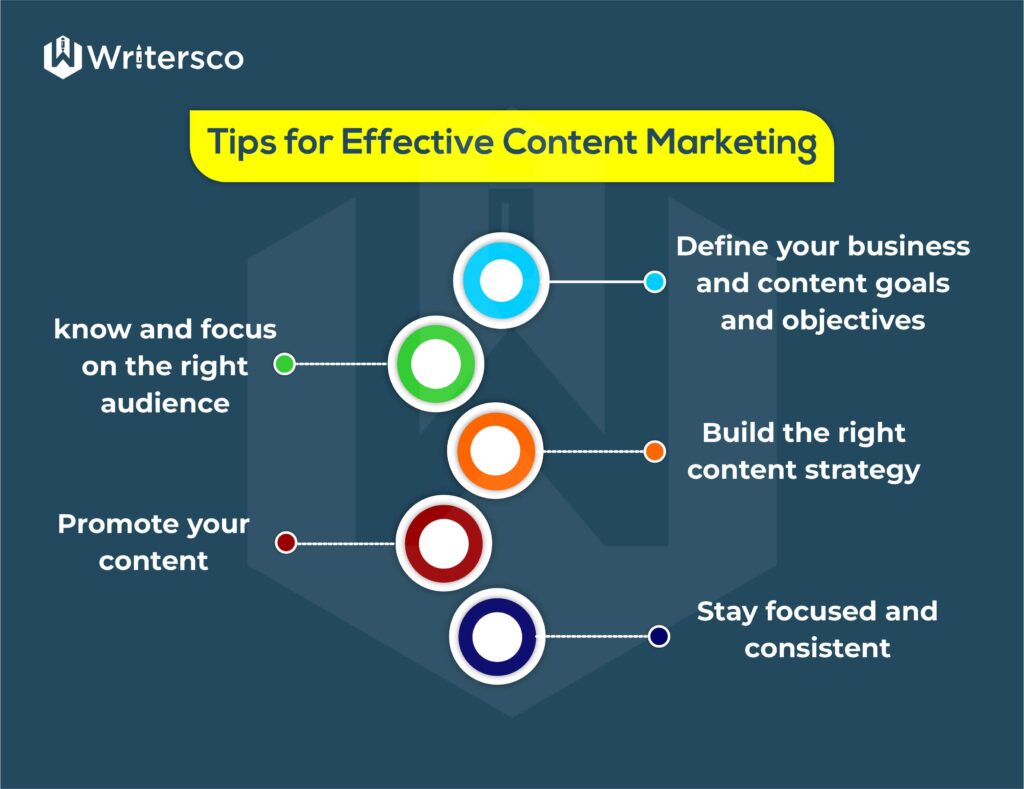 So, this blog post has successfully covered proven tips you will need to build effective content marketing in Nigeria for your business. Content marketing is important for every business. However, engaging your content constantly with the right audience is important to get your desired result. You don't need to freak out if you don't know much about it. WritersCo is always here for you.