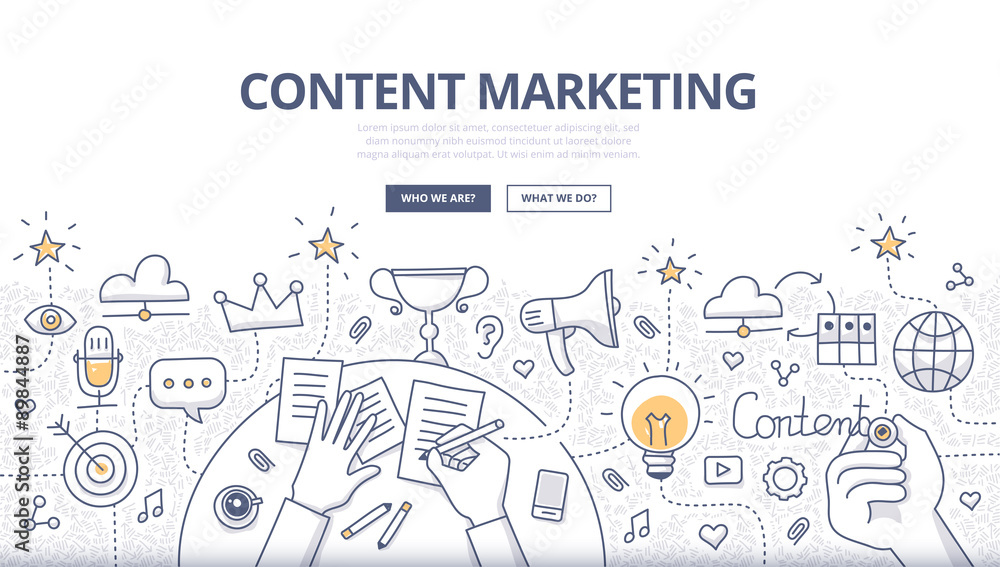 Content Marketing in Nigeria: The Ultimate Guide for Businesses in 2023
This is Why You are Here
There are two reasons why you may be here. One, you are sure of the benefits content marketing promises your business and will like to start experiencing them as soon as possible. Two, you are not sure what exactly content marketing is but you are aware everyone is talking about it in 2023. Whatever the case may be, one thing is sure: you are willing to learn more about content marketing for businesses and how content marketing in Nigeria works. And that is exactly what you will get.
This page provides you with an ultimate guide to content marketing as a business owner. Here, we have covered a range of topics that content marketing incorporates. Also, we've provided the basic information you need to get your business set for an effective content marketing journey in Nigeria.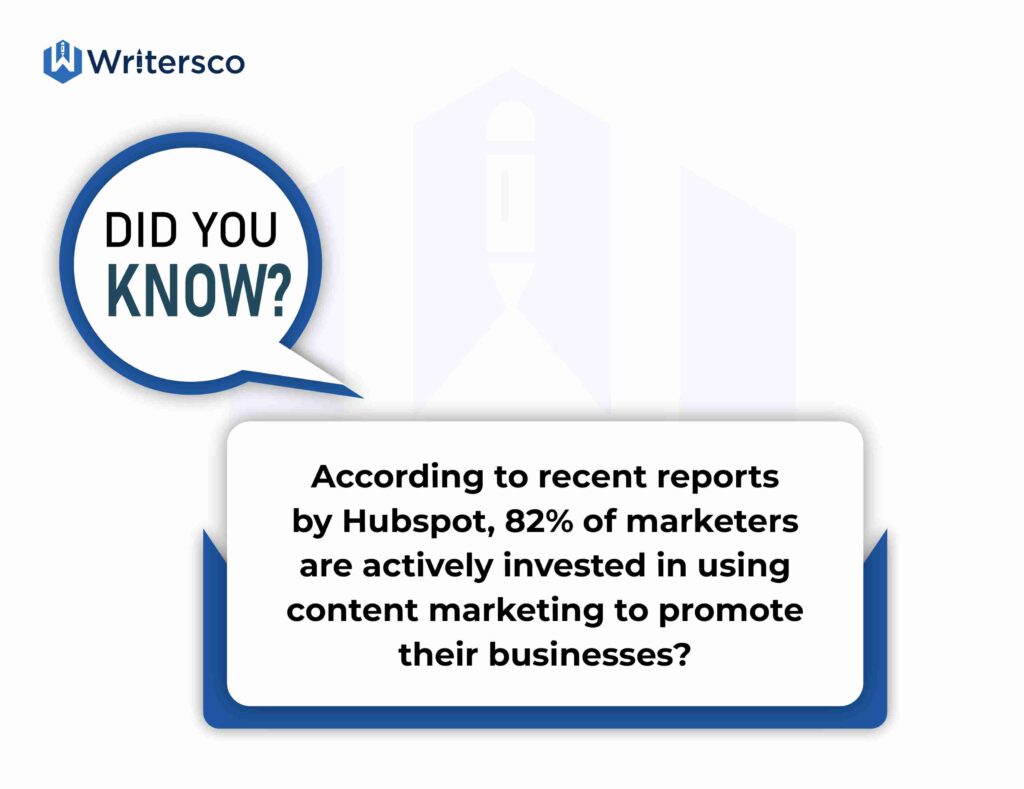 What is Content Marketing?
According to recent reports by Hubspot, 82% of marketers are actively invested in using content marketing to promote their businesses. Another report by the Content Marketing Institute confirms that 60% of the most successful B2B marketers have a documented marketing strategy.
However, statistics also reveal that about 10% of business owners are not using content marketing, while 8% are not sure if their business uses content marketing or not. This proves that a good number of businesses still have not fully grasped what content marketing means.
Interestingly, the meaning of content marketing is not a fixed one. Different bodies and authorities have sought to adequately define content marketing and acknowledge all it incorporates. However, all of these definitions have a central theme. So just by looking into a couple of them, you will be able to appreciate what content marketing is.
Top 5 Content Marketing Definitions
#1. Hubspot
Hubspot defines content marketing as the process of planning, creating, distributing, sharing, and publishing content via channels such as social media, blogs, websites, podcasts, apps, press releases, print publications and more. The goal is to reach your target audience and increase brand awareness, sales, engagement, and loyalty.
#2. Content Marketing Institute
The Content Marketing Institute highlights that content marketing is a strategic marketing approach focused on creating and distributing valuable, relevant, and consistent content to attract and retain a clearly defined audience and, ultimately, drive profitable customer action.
#3. Neil Patel
The typical content marketer/business owner is probably already quite familiar with who Neil Patel is. His blog defines content marketing as a long-term strategy that focuses on building a strong relationship with your target audience by giving them high-quality content that is very relevant to them on a consistent basis.
#4. Mail Chimp
According to Mail Chimp, content marketing is the development and distribution of relevant, useful content – blogs, newsletters, white papers, social media posts, emails, videos, and the like – to current and potential customers. When it is done right, this content conveys expertise and makes it clear that a company values the person to whom it sells.
#5. Marketing Insider
Marketing Insider defines content marketing as the process of consistently publishing relevant content that audiences want to consume in order to reach, engage, and convert new customers. It involves brands acting more like publishers and creating content on a destination you own (your website) that attracts visitors.
For your benefit, our team has made a comprehensive compilation of content marketing definitions. You should check it out!
History of Content Marketing
Although the term "content marketing" did not become known until 1996, the practice had always been existing. Since content marketing is all about marketing using content such as written pieces and videos, it is safe to say content marketing dates back as early as the innovation of writing allows. This is particularly so since writing is the earliest form of communication asides from speech and sign language. It was not until much later that we had prints, radios, televisions, websites, and emails as we have them today.
Thus content marketing can be seen in the old practices of printing advertisements on fliers and newspapers, publishing articles in journals, and sharing audio and visual information through the radio and television respectively.
In 1996, John F. Oppendahl coined the term "content marketing" for all the practices related to marketing using content. By then, the practice was already shifting from a print-dominated endeavour to the screens through the introduction of video and written website content.
Exploring Content Marketing and Related Terms
It is quite easy to mix up the concept of content marketing with other related terms such as SEO, content writing, and even the term "marketing itself." However, these concepts are quite different from each other although they are interwoven.
Content Marketing and SEO: The Subtle Difference
Consider content marketing and SEO as two separate entities that heavily depend on each other for success. SEO is a series of technical processes aimed at improving the quality and increasing the quantity of traffic to your website. On the other hand, content marketing focuses on using content to inform and/or drive action in your audience.
So you can take SEO as the ultimate step in achieving content marketing goals. At any time, you are either using SEO to inform yourself of what content to create or using it to drive visitors to the content you have created. Meanwhile, without content marketing, all SEO-generated traffic will be meaningless since there will be no content for visitors to feed on.
Content Marketing Vs Content Writing: What is the Relationship?
Consider content writing to be a major subset of content marketing. Since time immemorial, writing has always been a means to communicate intent and drive actions. That fact is still valid today. Businesses employ content writing as one of the content marketing formats for communicating their intent to their audience.
Content marketing is a very broad subset of content marketing because it incorporates key aspects such as blogging, email marketing, social media marketing, and copywriting. However, there are other forms of content marketing that are independent of writing such as podcasts, videos, and images.
Content Marketing Vs Digital Marketing
Content marketing is any medium that helps to deliver information to a specific audience and drive intended action. On the other hand, digital marketing is any marketing technique that utilizes digital technology.
While content marketing now heavily relies on digital marketing, it is still possible to utilize content marketing without making use of a digital platform.
Content Marketing Benefits for Your Business
Do you know that 90% of marketers who use content marketing for their businesses decided to continue investing the same amount into content marketing in the year 2022? On the other hand, 66% of marketers had expected their 2022 content marketing budget to increase compared to their budget in 2021.
If this means anything, it shows that businesses who utilize content marketing get more than enough results to be motivated to continue investing in content marketing and even invest more where necessary.
Research has also shown that the top three goals of content marketing are generating brand awareness, educating audiences, and credibility and trust. That being said, we will highlight some of the most important benefits of content marketing for businesses.
It helps you establish brand authority
It boosts traffic to your website
It helps you retain clients or increase returning clients
It drives conversions or sales
It gives you an overview of how impactful your product or service is
Types of Content Marketing in Nigeria
For clarity, types of content marketing could also refer to forms of content marketing or the formats content marketers use in deploying their content marketing strategy. That said, the top types of content marketing are:
Blog Content Marketing
Blogging is the most popular and easiest type of content marketing. If you will utilize content marketing in Nigeria, blogging remains the most effective content marketing type to explore. Here, you use the blog page of your website to generate traffic to your site and build credibility by answering questions your audience is asking.
Video Content Marketing
Recently, content marketing has shifted from a blog-dominated world to incorporating videos. Besides, platforms like Instagram and Tiktok which now thrive on videos have created an easy way for business owners in Nigeria to leverage this content marketing strategy.
Email Content Marketing
It is now possible for business owners to effectively market their brands using emails. From email blog posts to newsletters and post notifications, there are tens of ways you can keep your audience stayed to you once you have their email address.
Content marketing can also be done using other formats like:
Images
Infographics
Podcasts
Press releases, online, and print publications
Ebooks
Content Marketing for B2B: Understanding How it Works
As a business owner, one of the ways to increase sales and maximize profit is to offer products and services other business owners can get from you. This kind of marketing interaction is referred to as business-to-business (B2B for short).
Marketing to other businesses takes a different approach than when marketing to final consumers. You will need to be more convincing and must prove to your customers that you are capable of offering top-notch services. This is why it is important to focus on the right things. Here are a few things you must remember when creating a B2B content marketing strategy:
With B2B, your audience is very streamlined, that is, specific. So you must ensure you are targeting the right people.
Your audience is very informed. The other business knows what exactly they want and are unlikely to settle for less or what looks like less.
Content marketing for B2B tends to take up more formal procedures such as the use of email marketing and blog marketing, unlike business to consumers interactions which can be liberal enough to incorporate social media marketing to the fullest.
Your customers are more eager to obtain facts and figures from you. E.g., how well have your services been serving? What are the client reviews saying? And so on.
Developing a Content Marketing Strategy for Your Business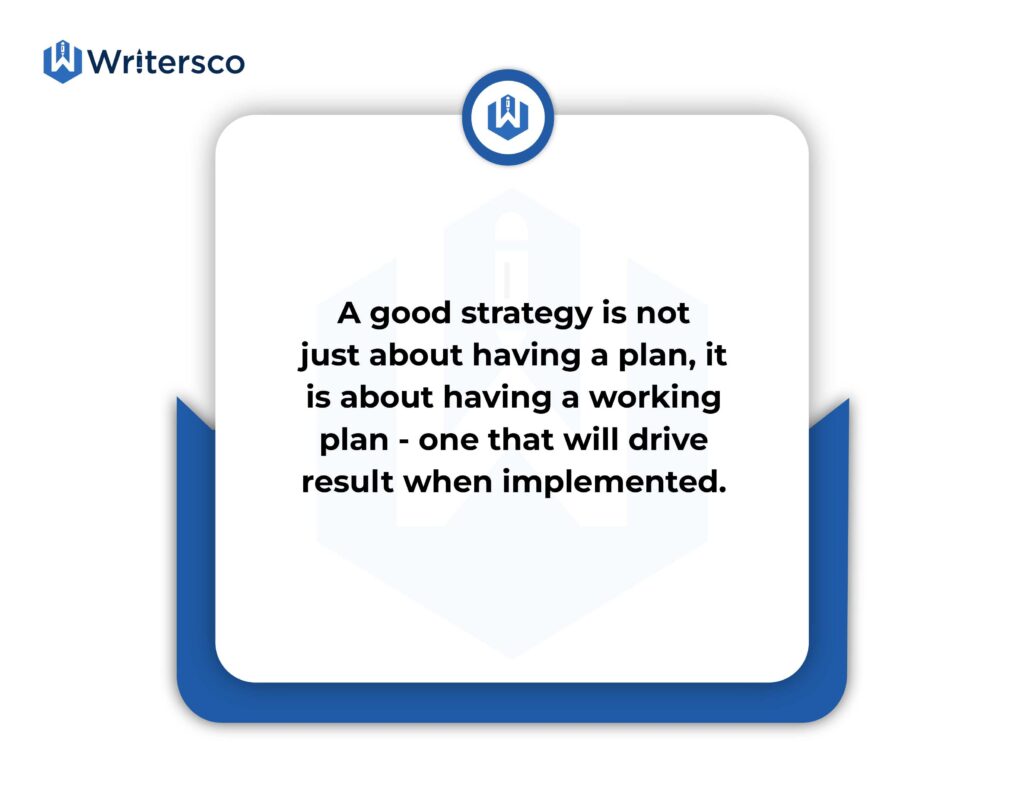 Content marketing cannot be effective when there is no strategy to work with. The marketing goals, your class of audience, and the budget are all part of what helps in creating a content marketing strategy.
When you have a content marketing strategy to work with, your chances of success are higher. Mind you, a good strategy is not just about having a plan, it is about having a working plan – one that will drive results when implemented.
How to Create a Content Marketing Strategy for Your Business
Outline the Content Marketing Plan
First of all, the goal of your content marketing should be clearly stated. Are you trying to gain new customers, make returning customers stay, or do you want to make a quick survey? A comprehensive not only states your goals and objectives but also highlights your target audience and the resources available to work with.
Build a Content Marketing Funnel
In simple terms, the content marketing funnel is a visual representation of the path potential customers take to make a purchase or take any other desired action. Usually, it first starts with awareness about your product or service and which then builds up to interest and desire in your service enough to cause a reaction. The content marketing funnel is not always rigid and it depends on the kind of audience you want to target. For example, a marketing scheme that targets returning customers will not focus so much on creating awareness about your product or service since your audience is already informed about it.
Design the Content Marketing Workflow
The content marketing workflow focuses on how tasks are worked on. It is almost impossible to take up content marketing solely, especially for well-established businesses. Too many tasks need to be done, most of which require professionals. Your workflow assigns the appropriate tasks to personnel such as email markets, SEO specialists, and content writers.
Finishing the Content Marketing Strategy Template
Creating an effective content marketing strategy requires you to focus on the right things only. You do not want to waste human and monetary resources investing in unnecessaries.
One important tip to guide your content marketing strategy is to watch out for what your competitors are focusing on. While you may not want to do exactly what your competitors are doing, successful competitor businesses can give you an insight into what to do next in terms of content marketing. This will in turn inform your strategy as it guides you in making decisions.
When to Hire a Content Marketing Manager for Your Business
Seeing as content marketing is an extensive chore, you will need to employ the role of a content marketing manager as your business grows. There is no best time to employ a content marketing manager, but once you notice that you're getting too busy to keep up with marketing tasks yourself, it is high time to hire a manager to do the job for you. Besides, you'll never know how much professional help you are missing until you get experts to work for you.
Interestingly, you do not have to employ a content marketing manager to work full-time if your business cannot support the cost implications yet. You could work with content marketing companies like WritersCo to perform tasks on a contract basis. One thing you should always remember is that content marketing always yields results when professionals are employed.
Content Marketing Services for Your Business
We bet that your business could make do with one or two content marketing services. At WritersCo, we offer a wide range of services that all kinds of business owners can benefit from.
Content Marketing Courses
As a growing company, it is important to train your content marketing team on working content marketing techniques as training them makes them serve the business better. WritersCo is a good place to get content writing training for yourself or your content writing team and also get certified.
SEO Content Marketing
SEO is a major backbone of an effective content marketing strategy. However, many find it too technical to perform on their own. If this is the case with you, you can turn your needs to WritersCo. Our SEO team will work to ensure your content marketing strategies gets to the right audience by using proper SEO measures.
Content Writing Services
From creating blog posts to helping your write your ebook and managing your blog site, WritersCo is more than equipped to handle tasks related to content writing.
Other Content Marketing Tips to Get Your Business Set for Growth
It's Okay to Encounter Some Challenges
Yes, you read that right! While statistics reveal how effective content marketing has been in helping businesses land sales and get established, there might still be some challenges. Hubspot reveals that the top challenges marketers face with content marketing are finding new content ideas, creating content that drives optimal engagement, and creating content that generates leads.
Explore Enough Content Marketing Options
Content marketing goes beyond blogging and sharing posts on social media. There are other options you can explore such as having periodic podcasts or creating a YouTube Channel. On the other hand, you ensure you are utilizing all of the features this format presents. For example, when using social media content marketing, leverage features like proper use of hashtags, Instagram reels, and so on.
Keep Your Content Unique and Original
Recycling content is a common thing on the internet nowadays. One way to get your audience stuck to you is to dish out original and unique content. However, note that doing this requires adequate research so you know what your audience wants and can maintain a touch of creativity on your part.
Content Marketing Tools You Should Use as a Business
Whether your content marketing strategy is focused on a B2B relationship or you are directly targeting consumer audiences, there are tons of tools and technologies that could help you deliver your strategies better.
Some of these tools are:
SEO Tools
Several SEO tools like Ahref and Ubersuggest are available to help you with tasks such as researching keywords, developing content topics and determining other metrics such as your website ranking, number of visits, backlinks, and so on.
Google Analytics
You may never be able to tell how well you've been smashing your content marketing goals if you do not track your business website. Google Analytics offers much more than what most SEO tools can provide. This includes helping you understand your audience better and tracking site metrics.
Content Management Tools
Content Management Tools such as WordPress help you manage blogging, publishing, and other editorial services. What's more? CMS tools like WordPress allow for tens of other plugins that could manage other tasks such as inserting a table of content in your articles, monitoring content readability, and templates you can use in customizing your page.
Content Editing Tools
From Google Docs to Grammarly and Yoast SEO, you have a host of tools to guide your content creation. These softwares have a range of uses from providing an interface for content creation and structuring to helping you edit your content for top quality and easy readability.
The Social Media
Yes. The social media can be a very effective and less cost-demanding tool for effective content marketing.
Email Content Marketing Tools
Email marketing tools can help you save a good deal of time by letting you send automated emails, collect subscriber databases and even crawl email marketing performance over time. Other tools can help you design amazing newsletters and send email prompts based on customers' actions.
Design Tools
With images, videos, and infographics being an essential part of content marketing, you will need a couple of tools to help you create these content formats. Canva is one of such versatile platforms. From creating Instagram carousels to designing websites and editing videos, there is virtually nothing design-base you can do with Canva. At least, for the basics. Meanwhile, there are other video editing apps such as Inshot that gives allow you access to editing videos professionally.
Planning and Project Management Tools
Seeing as content marketing requires a lot of planning and incorporates several little tasks, you'll need softwares that can help you to manage tasks. Tools like Trello and Notion let you track all your tasks at a glance while allowing for collaborations with other team members. You could also create content calendars will apps that are created specifically for this purpose
Top 10 Free Tools for Content Marketing
Granted, some of these tools require subscriptions that could add up quickly, especially when you are using several tools at once. Of course, these subscriptions allow for access to more features that increase the quality of the goals you achieve. Nevertheless, a couple of these tools are free to use. Some of them are totally free while others have free as well as paid subscription plans.
Here are our 10 favourite free tools you can use for content marketing:
Google Docs
Trello
Notion
Grammarly
Canva
Inshot
Ahref
Google Analytics
Headline Studios
Freepick
Note that no content marketing can replace an extensive content marketing strategy. Marketing tools can help you with tasks such as finding your target questions, discovering questions your audience is asking, or sending multiple personalized emails. However, marketing tools cannot, for example, effectively do the job of creating quality content or updating outdated content on your website. You will always have to attend to tasks despite the help technology offers.
Content Marketing Quotes to Remember
"Content is the reason search began in the first place." – Lee Odden
"Market like the year you are in." – Gary Vaynerchuk
"Content marketing is a commitment, not a campaign." – Jon Buscall
"Content is fire. Social media is gasoline." – Jay Baer
"Content marketing is really like a first date. If all you do is talk about yourself, there won't be a second date." – David Beebe
"The only way to win at content marketing is for the reader to say, 'This was written specifically for me.'" – Jamie Turner
"Content is King." – Bill Gates
"The best marketing doesn't feel like marketing." – Tom Fishburne
"Traditional marketing talks at people. Content marketing talks with them." – Doug Kessler
"It's not the best content that wins. It's the best-promoted content that wins." – Andy Crestodina
"Here's everything you need to know about creating killer content in 3 simple words: Clear, Concise, Compelling."
Content Marketing in Nigeria: Leveraging on the Nigerian Digital Market
Nigeria, like every other digitally-inclined company, has learnt to thrive through the digital market. While content marketing seems to be quite a popular term in the country, it is yet to be fully understood by many. What's more, most Nigerian companies do not employ full-time content managers. They, therefore, rely on the services of content marketing companies and other digital marketing agencies.
How to Get Started as a Content Marketing Company in Nigeria
Thinking of starting up a content marketing company in Nigeria? Then you are in for an interesting ride. Because content marketing in Nigeria is still very much unexplored, there are tens of niches to you can venture into. Moreover, you have a wide range of audiences to attend to. However, one of the ways to rise to quick success as a content marketing agency is to niche down. You could either focus on a specific market such as the medical sector or niche down to a specific type of content marketing such as blogging or social media management.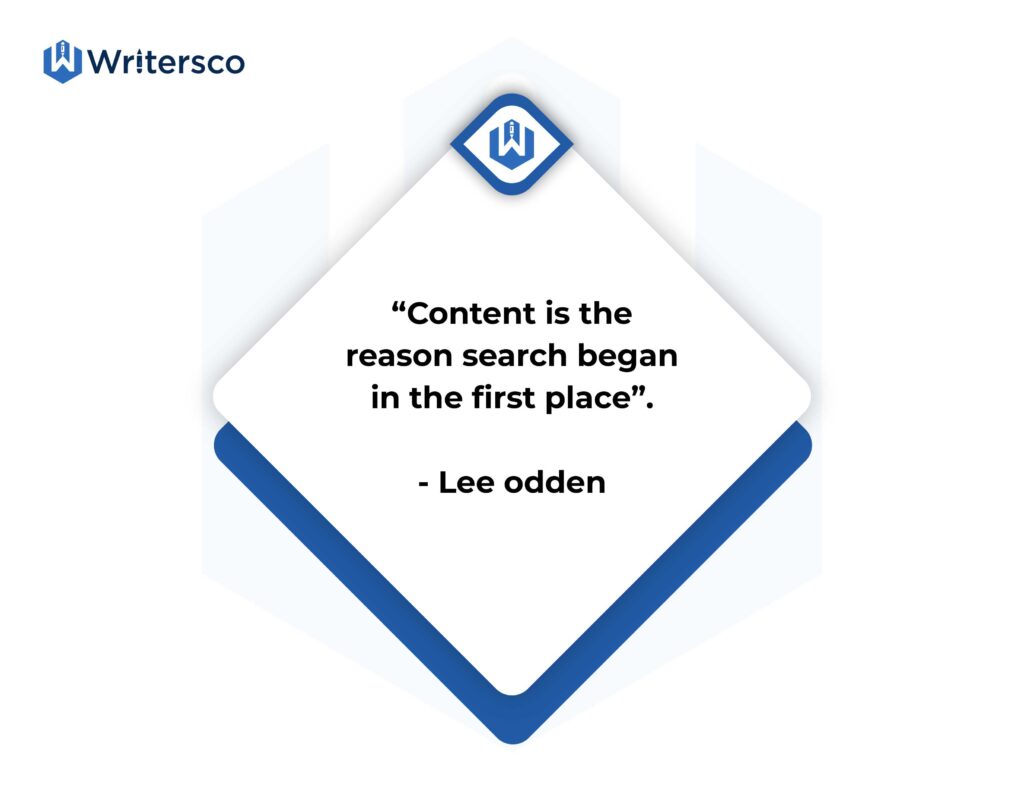 Conclusion
You could call content marketing the lifeline of the 21st-century business. Which so much it has to offer, it is no surprise the business world is all out about it. Although there are several things this post has left you with, we will summarize the article in three points:
There is no better time to grasp the whole essence of content marketing other than now.
You have enough options to explore when it comes to content marketing.
Call it a strategy for profit-making, but content marketing's priority is to please your audience. In other words, your audience is the focus.
So why exactly have you not created a content marketing strategy yet? Reach out to us at WritersCo and we'll be glad to help you all the way with your content marketing needs.
FAQs
What are Some Content Marketing Goals?
Lead generation
Creating brand awareness
Increasing brand authority
Gain new customers
Increase audience engagement
Building brand credibility and trust
How Do I Become a Content Marketer?
Here are a few steps you can take toward becoming a content marketer:
Understand what content marketing is and how it works
Learn how to create common content marketing formats
Learn branding and brand persona
Build your content marketing and keyword research skills
Take a content marketing course and get certified
What is Content Marketing in Digital Marketing?
According to Content Marketing Institute, content marketing is a strategic marketing approach focused on creating and distributing valuable, relevant, and consistent content to attract and retain a clearly defined audience and, ultimately, drive profitable customer action. Content marketing could utilize digital marketing techniques such as the use of social media and the internet to achieve its purpose.
What is Digital Content Marketing?
Digital content marketing would refer to the use of digital methods and processes to achieve content marketing goals. This includes leveraging on the internet and other digital technologies available.
How do I Start a Content Marketing Agency?
Determine what services you want to offer
Highlight your target audience
Develop a plan for the new business
Leverage on the social media and the internet for marketing and brand awareness
Set the pricing for your services
Consider starting with a blog, YouTube Channel or creating a social media presence