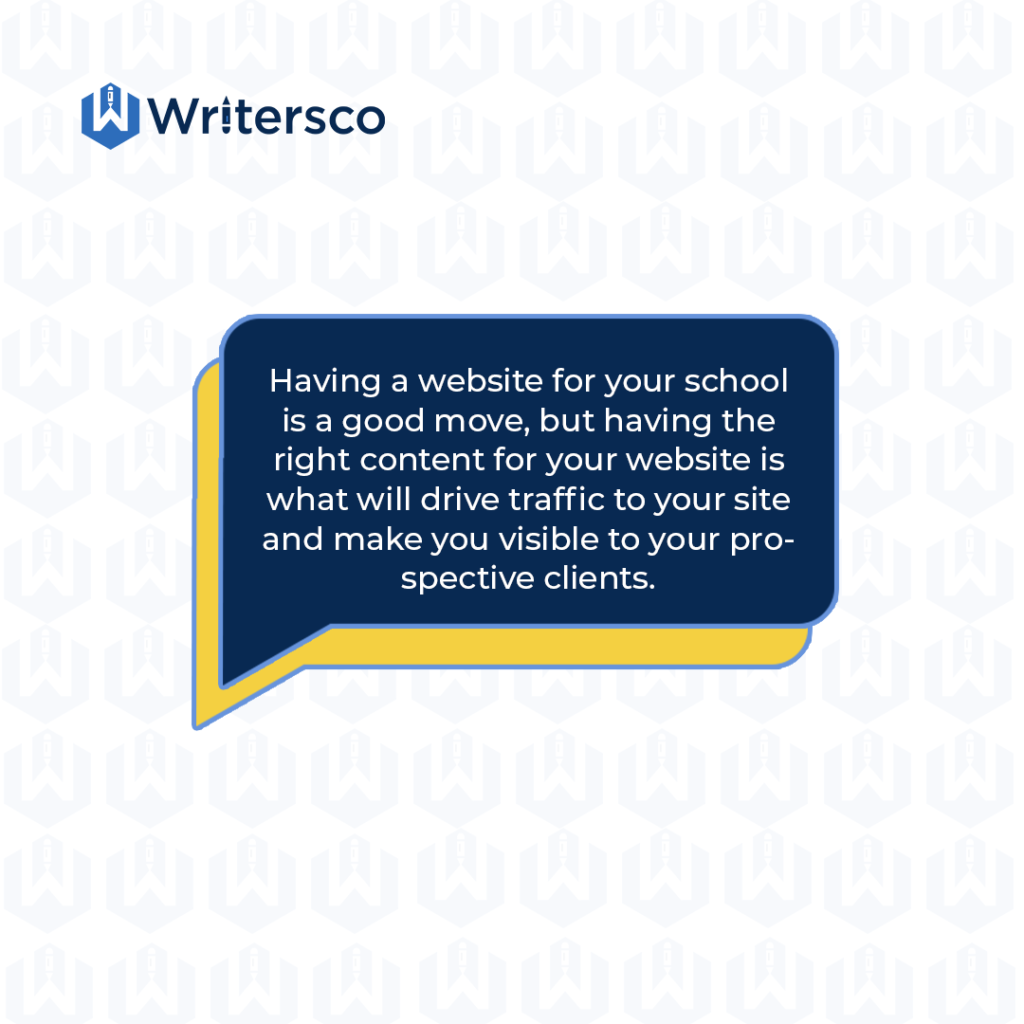 Many schools are faced with the problem of website content ideas, despite the knowledge they have about the importance of a website. Having a website for your school is a good move, but having the right content for your website is what will drive traffic to your site and make you visible to your prospective clients.
Creating content for your site can be an issue, especially when it seems you have exhausted all your content ideas. We would love to give you a few high-quality content ideas and how you can consistently create and develop them to meet the need of your audience.
In website content writing, there are three common areas. Here's what I can call the fourth area; social media posts. You can curate your social media posts from different social media platforms and add them to a page of your website. As good and effective as this area is, let's explore how you can have your website full of educational and entertaining content, shall we?
We can classify school website content under three main categories:
News
Blog content
Reviews
Each area is similar in that you get to educate, captivate, and even entertain your audience. Relax and enjoy with us as we take you through each of these areas.
News: The Periodic School Website Content Idea
If you want to engage your school community, news articles/content is a perfect way. Having a means of updating your students, their parents, your staff, and your school community help create more involvement among everyone. People always want to know what is going on.
Your school's website should be a reliable source of information, so you should update your site with news content as frequently as possible.
You could update your news article based on:
● School events: give updates on events happening in the school; upcoming or just concluded events like the founders' day celebration, school club activities, etc.
● Local, national, and international news: it is essential to focus on things happening in your school. But also, write about the national and international education sectors and how it impacts your students and affects your audience.
● Fixed content: this fills up your content calendar with some recurring content and helps you not run out of content. Examples of fixed contents are:
Staff/student of the week- you get to interview someone from your school and upload the interview on your website. It could be a student or a teacher.
Awards: let your audience see and appreciate your hard-working staff and students. You can make it an open selection, or even allow both students and staff to look forward to who the next person would be.
● Sporting events: you would agree with us that one of the events everyone looks forward to is the sporting events or inter-house sports competition as we commonly call it. News on upcoming sporting events, athletes to look out for, and so on appears to be premium content that will interest your audience and keep them engaged.
News updates are a huge plus for your website. It keeps your audience updated about things going on in and around your school. To create this content in an entertaining and informative way, make sure you have the best team working on it.
Blog Content: The Ultimate School Website Content Idea
Blogs are the most common and costless way of getting people to your website. It used to be used mainly by companies that sell products. Now, whether products or services, business owners benefit from blogging.
You can use blogging to keep both students and parents updated on due dates and class events and promote discussion among students. Getting your students to
be skilled beyond the four walls of the classroom is a vital aspect of education. Blogging encourages and motivates students to become better readers and writers. It also encourages the use of the internet among students and even teachers.
Asides from the benefits of blogging to teachers and students, uploading relevant content gives your school a chance to expand its reach, and build trust and confidence around your school.
How do you know what to blog? No worries, that's the essence of this article. First, listen to your audience. You don't want to post content your audience is not interested in. Your audience is all around you; listen to them and make sure to address their needs.
Take, for example, parents generally have questions like "what's the advantage of boarding school over day school?" or "is boarding school worth the investment?"
As important as addressing their needs and fears is, be careful not to majorly on why your school is the best choice; address all questions from a general perspective.
While choosing a title for your blog, keep in mind that web searches come mostly in questions, so you can make your topic a direct question. If you are concerned about your website's search engine optimization, talk to us! We would love to help you achieve your goals.
Reviews: The Magnetic School Website Content Idea
The best form of advertisement for your school is "REVIEWS" honest and authentic reviews or testimonials from both past and present parents and students. Humans generally are very interested in what other people have to say about practically everything, including schools. Do you have amazing services to offer? Brag about them, after all, if you don't, who will?
You can gather reviews through various means. The world has gone digital, and that's quite advantageous in this situation as well. You could create an online form (there are a lot of them) where people can click and write their reviews. You could also create a medium to get short videos from students and parents, both past and present. Collate these reviews and place them on your website
Quick one: Ensure you update your reviews at least once a year. You will always have new people visiting your websites, and you don't want them to only find reviews from 2019 in the year 2022, right?
5 School Website Content Ideas and How You Can Develop Them
Knowing and understanding your school's values is the simplest way to know the kind of content to put out to your audience. This would be different for each school, but we have come up with some of the school website content your audience would be interested in.
#1. Things to Know When Choosing the Proper Education for Your Child
There are a lot of schools out there now, and it might be a bit difficult to know the right school for kids. You can list qualities and signs to look for when choosing a school for your kid. Take, for example, a school that has a lot of extracurricular activities for its students would be a good option for an introverted kid. Giving out this information to your audience would be a way to drive traffic to your site.
#2. Preparing Your Child for Back-to-School
After a very long period of relaxing and being away from school, parents need to get their kids ready for school again, both physically and mentally.
#3. Three Things to Look Out for in a Great School
Parents want the best for their kids, and getting them into the best or at least one of the best schools is very important to them. Contents that will help them know what to look out for in a great school will be a good idea. You could list out features of an excellent school and develop them around what your school stands for. Remember not to focus only on what your school has or does not have; your content should show you want to help.
#4. How to Protect Your Child Against Bullying
One of the ways to get people's attention is by touching their pain points. Recently, bullying in schools has been the order of the day. What parents are most concerned about is how they can prevent bullying, or how they can protect their kids from bullies. You could create content around how children can protect themselves from bullies in school and the actions your school takes to discourage or eradicate bullying, which could be a plus for your school.
#5. Tackling Homework; Things to Know
Speaking of things that can be a headache for parents and their kids, homework sure takes the lead. Your blog can provide them with a few strategies they can implement to make their kids more interested in doing their homework. For example, if a parent is aware of how a device only for academic purposes can help their kids solve homework without stress, they would love it and want to try it out.
Conclusion
Your website can be a good tool for your school if you maximize its use. Releasing valuable content to your audience is a not so easy but is an effective way of reaching them and getting them to request your service. Also, remember that search engine optimization for your content is as important as the content itself. Your audience may not see your blogs if your content is not searched engine optimized.
Now that you know how important content creation is to your website and have an idea of school website content you can upload, your next line of action is to get to work!