How to Achieve Good and Logical Flow in Writing
A general rule in writing and anything related to communication is that no one likes a disorganized and incoherent flow of thoughts. So, it is clear that one of the biggest ideas in writing is how to create logical flow in writing.
Your success as a writer will always depend on conveying your thoughts to readers with a smooth and logical flow. However, this task is not as easy as it seems for many writers. Daily, many writers look for how to achieve logical flow in scientific writing, creative writing, or content writing.
Whichever category you are in, this post will help you on how to create perfect logical flow in your writing. Let's start on making you become that writer with an exceptional flow in writing.
What is Logical Flow in Writing?
Sometimes, the problems we have with concepts may just be simplified by having a better understanding of the idea. So, before we get lost in addressing logical flow in writing, we probably should make a quick stop at understanding logical flow in writing.
We know writing communicates thoughts, ideas, and concepts. Also, we understand that excellent communication involves a reader decoding whatever message encoded by the writer. Logical flow, then, is the communication of thoughts from the writer to the reader in a clear, reasonable, and concise way. This form of communication produces the necessary understanding for the reader and fulfills the demands of communication.
Illustration
Take a look at the logical flow in these writing examples:
Case 1: My mom and grandma are vegetarians. She began to avoid meat much later when she clocked 40.
Case 2: My mom and grandma are vegetarians. Although my grandma started a vegan lifestyle when she was a lot younger, my mom began to avoid meat much later in her life, at 40.
The two examples give a clue about logical flow in writing. Let us take a look at case 1. We see the first sentence in case 1 talked about two people -a mom and a grandma. Then, the following sentence shared information about a person who began to avoid meat. The issue with the second sentence was that we were not told who this person was between the two earlier mentioned. So, we began to wonder who was talked about, and we were lost in the process. We can easily conclude that there was an issue with the logical flow in writing in case 1.
Case 2, on the other hand, clearly showed who the person who began to avoid meat at a much later age was. This way, we got a clear picture of what the author was describing. We were clear on the facts in a more coherent and organized manner. The writer did not throw the readers into a web of confusion on who or what was discussed. That way, we saw a logical flow in case 2. The message was successfully delivered to the readers, free of ambiguity.
How to Create Perfect Logical Flow in Your Writing
The examples we saw above already showed us the importance of logical flow in writing. So, every writer must master this skill to write engaging, clear, and coherent essays or articles at all times. To understand how to create perfect logical flow in your writing, you need to structure every writing.
Structure in writing helps keep your writing focused and prevents you from diving into incoherence and a lack of logical flow during writing. Although it is not a universal rule, most writings are structured into three main parts. These parts are:
Introduction
Here is the opening of the writing, and really, the place that determines the rest of your essay. Your introduction dictates the pattern of organization that the rest of your paper follows. So, as a writer, you must have it in mind to begin your writing on a safe spot before you take the sail. Think of your introduction as the foundation on which your entire paper is built. That way, you will want to plan it carefully.
It helps to create an outline for your writing, starting with the introduction. Remember, you aim to communicate and safely bring all your readers from the start to the end of your paper without getting them lost. An outline starting from noting down your introduction will help you have a good flow in your writing.
Body
The body of your writing is the part that follows the introduction. Here is where you have your thesis or central point of argument for the essay. Since you have started the sail from the introduction, you should not steer on the wrong waves in the body paragraphs and end up confusing the readers.
Just as having an outline helps with the introduction, an overview is compulsory for the body paragraphs. The body paragraphs are usually the parts of writing where writers often get caught in the web of loss of logical flow. The truth is that you have all you are saying right there in your head, and you perfectly understand it. However, your audience needs to resonate at that frequency with you, and you have to take them there.
Cracking the Body Paragraphs
Pick a pen (or open your writing software), and organize your paragraphs from the most straightforward ideas to the more complex ones. Ensure that you build on what you've said or what is generally known to explain the vague or more obscure points. Read through your body outline again, and adjust to ensure the best flow.
Sometimes, it helps during outlining to ask if a child of eight years would understand what you are trying to describe. The answer to this question may help you create perfect flow in your writing. But you may try to argue that you are not aiming to write for an eight-year-old. Then, ask yourself if your writing were an instructional guide to assemble a cooking set, would a sixty-year-old grandma be able to follow through without ending up with a bowl if you meant your cooking set to be a pot.
Conclusion
Your conclusion is the part that ties up all you have written. This aspect of the writing may serve as a summary of the writing or a final note that restates the theme of your essay. The conclusion appears relatively easy to work with, but wrongly used, it may make a total disaster of the entire writing.
To draw a logical flow in your conclusion, you need to look at the outline again, skimming through to understand all written. With that understanding, you can conclude and achieve a perfect logical flow in your writing.
Tricks to Achieving Logical Flow in Writing
Every bit of writing adds up to the final masterpiece produced. That means the little sentences, the brief pauses, and punctuations add to the final product of clear and comprehensible writing.
This section will go practically into how to achieve perfect logical flow in your writing.
Style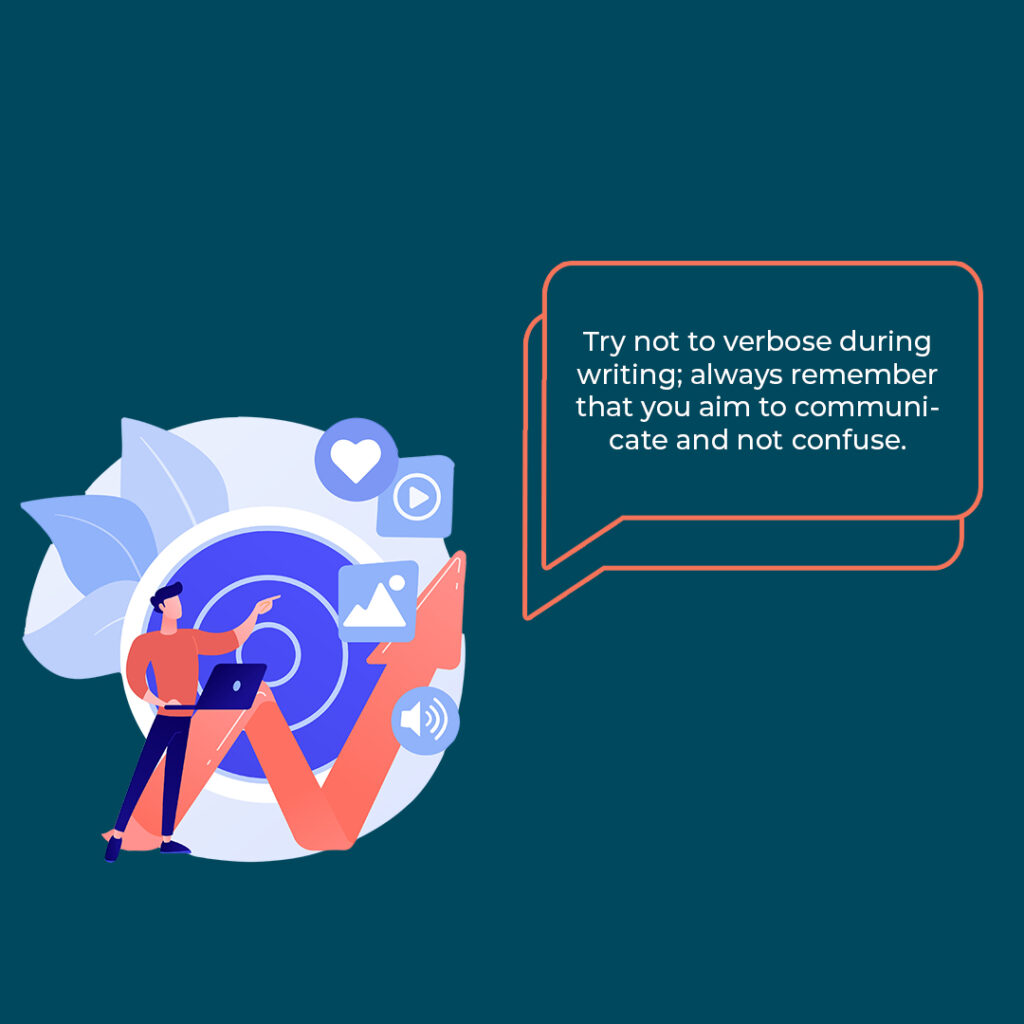 Achieving a logical flow depends not only on what you write but also on how you write it. That is what style involves in writing. Your tone, word use, connections, and voice are all attributed to your style.
Your writing style has to be pretty consistent in every delivery. You have to use your literary elements correctly and use the appropriate language to drive your thoughts or ideas. Try not to be verbose during writing; always remember that you aim to communicate and not confuse.
Point of View
Adhering to a side and keeping to it helps your logical flow. You don't want to spend 60% of your writing on how cats are lovely companions in an article that is titled "Dogs are man's best friend."
Your point of view is your perspective on the topic. Knowing how to write logically depends on your use of point of view. It dictates how you can dwell on different aspects of your discussions. Learning your point of view also helps you narrate your writing, your biases, and the use of arguments to support your essay.
Ask yourself while preparing your outline, 'am I for or against the point of this essay, or neutral?' The answer to this may provide a significant enhancement to your logical order.
Tenses
The parts of writing that may help with how to have good flow in your writing are tenses. Tenses state the period when an action takes place or has taken place. When tenses are used well, the writing is easily understood. However, when abused, the outcome is writing with a terrible flow.
Knowing the right action and using the proper tenses, whether present, past or future, helps with the coherence of writing. Mismatch or inconsistent tenses is only a quick way to confuse the reader and make an essay lose its organization.
Transitions
One essential tool that makes writing flow is using the correct transition words. If I fail to use appropriate transitions between this sentence you are reading right now and the next, there will be a missing item that will affect the flow. But, I won't forget to add that vital transition word, and I hope you have noticed it.
Words like however, but, so, thus, therefore, in addition, also, moreover, among others aid readability, and improve a document's outcomes. Linking sentences or paragraphs together is essentially seamless with the use of transition words. Thus, it would be best to use them to make your writing flow more logically.
Consistency
Consistency is the key that holds everything in writing together. Writings that lack consistency in style, point of view, and tenses will become incoherent. The emphasis for any essay is to make every part flow through the regular use of writing elements. With this in mind, there will be the achievement of communication between you, the writer, and your readers.
To wrap it all up, writing should always follow a logical approach. So, you must be ready to invest your time and resources in developing your logical flow. The truth is, some writers are already experts at doing this. When you contact us at Writers' Co. you can be sure that you get a seamless transition between your thoughts and intentions in writing. But if you must write, ensure it flows with precision so everyone gets the essence of what you are communicating.