How to Get Started as a B2B Content Writing Service Provider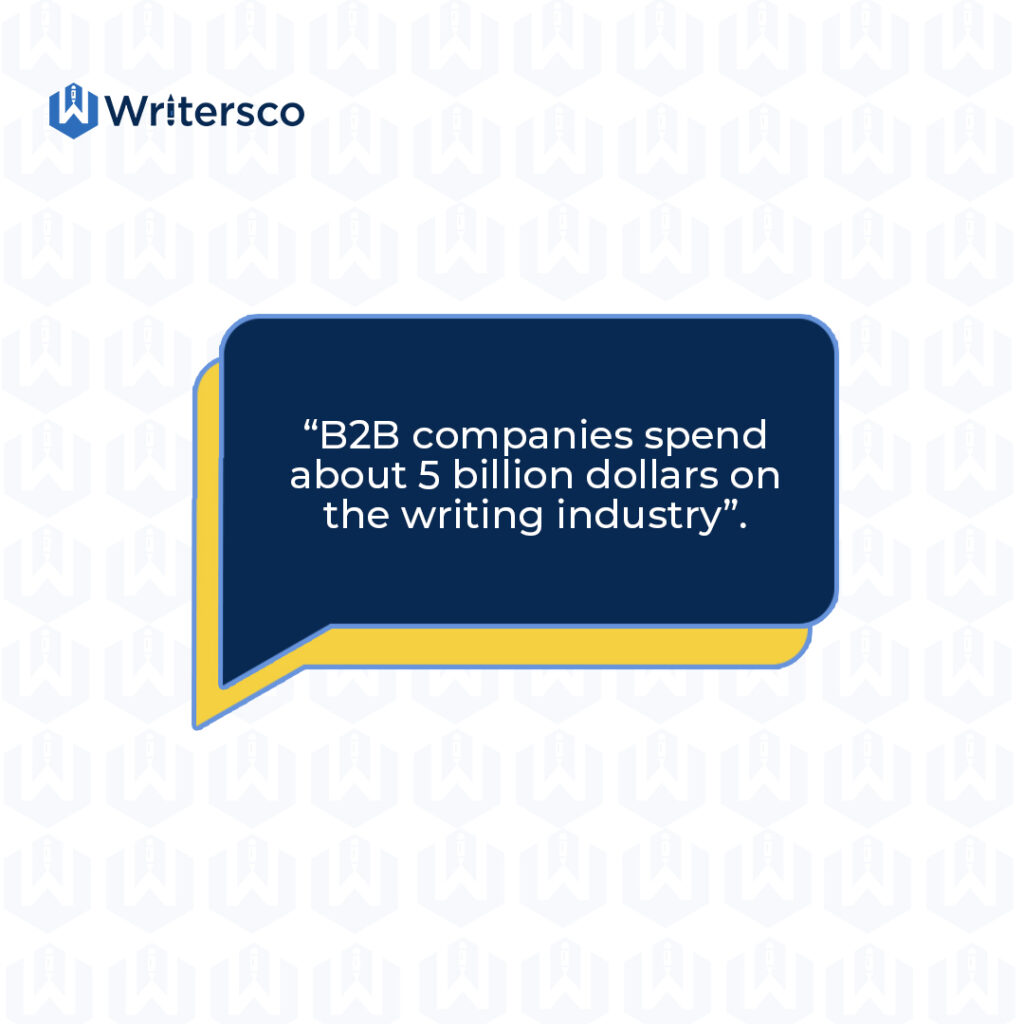 What is B2B writing?
B2B content writing service is also known as business-to-business writing. It entails developing content for businesses that sell to other businesses. In other words, you are assisting a business in selling to other businesses. B2B writing is about aiding a target audience in achieving its business objectives using written content These content can be articles, e mails, white papers, or sales copy.
Who is a B2B Content Writing Service Provider?
A good example is a B2B company is a tire manufacturing agency, say Agency A, that sells directly to automobile manufacturers. WritersCo is an example of a writing agency offering B2B content writing service. At WritersCo, we provide writing services to other companies who need those written content to promote their services to other companies.
So, if Agency A is seeking to employ a content writing service provider and finds us at WritersCo, we could help the agency develop unique written content that will attract more automobile manufacturing company to them.
Common types of B2B content
Blog posts that can be published on a business's webpage.
Newsletters sent to new and existing customers to keep them updated.
Social media ads, which are published on the company's social media platforms.
White papers, which can involve experts, interviews, and reports.
Case studies that focus on the brand and how it has helped people.
Product descriptions can include features and benefits of a particular service.
Other forms of B2B writing include:
E-mail campaigns
Ebooks
Copy writing
Press releases
Video scripts
Speeches
Popular B2B writing niches
B2B content can benefit a variety of businesses. Some examples of business sectors that sell directly to other businesses are:
Healthcare
Finance
Travel
Technology
Manufacturing
Transportation
Banking
Energy
Law
Job recruiting
Why should you be a B2B Content Writing Service Provider?
Businesses require content to market their products. Far too often, they struggle to produce enough content to meet their demand. This means that there is a sizable market for writers to fill this void. B2B writing can be more lucrative than other forms of writing. Fewer people know about this form of writing, making the competition less. A report by Forrester Analytics found that the B2B economy is worth about a trillion dollars. It was also found that B2B companies spend about 5 billion dollars on the writing industry.
There are other benefits to becoming a B2B content writing service provider, such as:
Becoming an expert in a particular niche
Working for big brands in the industry
Building new relationships in an industry
How to become a B2B writer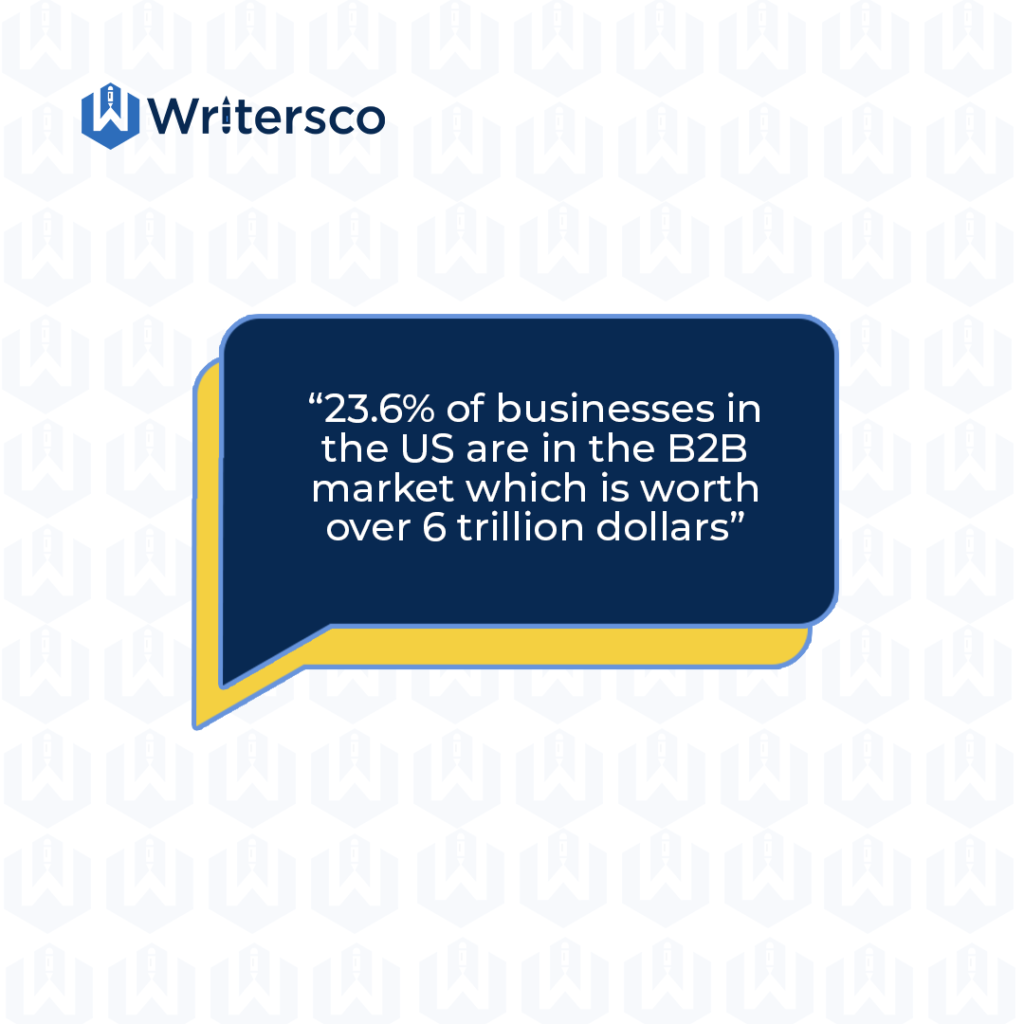 In order to become a successful B2B writer, you need to be prepared. Here are some steps to place you in a great position.
Step 1: Examine your Current Skills and Experience
Look into your life and career opportunities. You should list your skills and examine carefully how you can fit them into B2B writing. For example, if you work in healthcare, you should know about medical equipment. The key thing is to look inward at your life and how best you can apply your experience to your writing.
Step 2: Find Your Niche
In B2B writing, niching down is essential. By becoming an expert in a particular area, you can provide deeper information. The more information you can provide about a topic, the more opportunities you can get from a select few clients. As an example, in the hospitality industry, you can become a B2B food writer or a B2B hotel writer.
Step 3: Create a Portfolio that fits a B2B Content Writing Service Provider
A B2B writer needs a portfolio to market himself/herself. A blog or a website is a good place to start. You can include your information on your website, as well as a sample page that showcases a few of your works. Your portfolio should also reflect the niches you have chosen as a B2B writer. You can also post samples on some writing sites. A good place to build a portfolio site is on WordPress.
How to find opportunities as a B2B Content writing Service Provider
There are a few sites where one can find work as a B2B writer. Some of these are:
#1. Social media
LinkedIn provides a pathway into getting a job in the B2B world. Ensure your profile is well-updated and that it highlights your niche. You should also share links to your website or blogs so potential clients can view your portfolio.
#2. Referrals
You can get job opportunities from a network of people around you. You can get referrals from past clients, friends, and family. It is also possible to get jobs from other freelance writers. It is particularly beneficial to form an healthy network with other people in the industry.
#3. Freelance Writing Sites
There are some online sites which provide a way to work directly with B2B brands. You could sign up on these sites and upload your portfolios. You may be contacted by company managers who will add you to their team or you could given jobs by B2B brands on a contract basis. Examples of popular freelancing sites that favour B2B writers are Upwork, Fiver, Skyword and Freelance Writing Job Boards.
#4. Agencies
Different agencies, such as Marketing and Advertising agencies, hire freelance writers to work on brand projects. A writing agency will help you to find job opportunities with different clients without so much stress on your part. On the negative side, the pay could be less than if you were working with the client directly.
#5. Brands
It is also possible for you to contact a brand directly. You can indicate interest by writing the brands a letter of introduction showcasing your niche and previous work. Then you can ask if they are interested in working with a freelance B2B writer.
6 Tips You Need to a be good B2B Writer
#1. Know Your Audience as a B2B Content Writing Service Provider
Because B2B writing is business-specific, you must grasp the concept of the company and understand their needs. You should first figure out who your potential customers are and then try to figure out how they think. Any content created must take into account their needs and goals. Otherwise, you will have failed to achieve your goal of writing.
It's important to understand all of your potential clients' basic characteristics, such as demographics, possible problems, strengths and weaknesses, value systems, and concerns. You should look for industry-specific words and terms, as well as background information and industry trends, to include in your writing.
For instance, in the technology world, you will get familiar with terms such as "bugs" or "backend", which may mean something else in plain terms. Understanding your audience allows you to tailor your writing and address your goals in a comprehensive manner. It is important to keep in mind that your target audience may change over time. It is critical to maintain strategies that can adapt to changes.
#2. Know Your Products and Services
Another important aspect of B2B writing is researching all the information about the product and services. You must be able to provide useful information about your brand. It is critical to conduct objective research on the brand. This aids in learning about the product's features and benefits.
It is also important in B2B writing to discuss the benefits that will entice potential customers. You must be able to persuade customers that your products are exactly what they need.
Always use high-quality, official sources for research. You should also gather information from multiple sources to double-check your findings.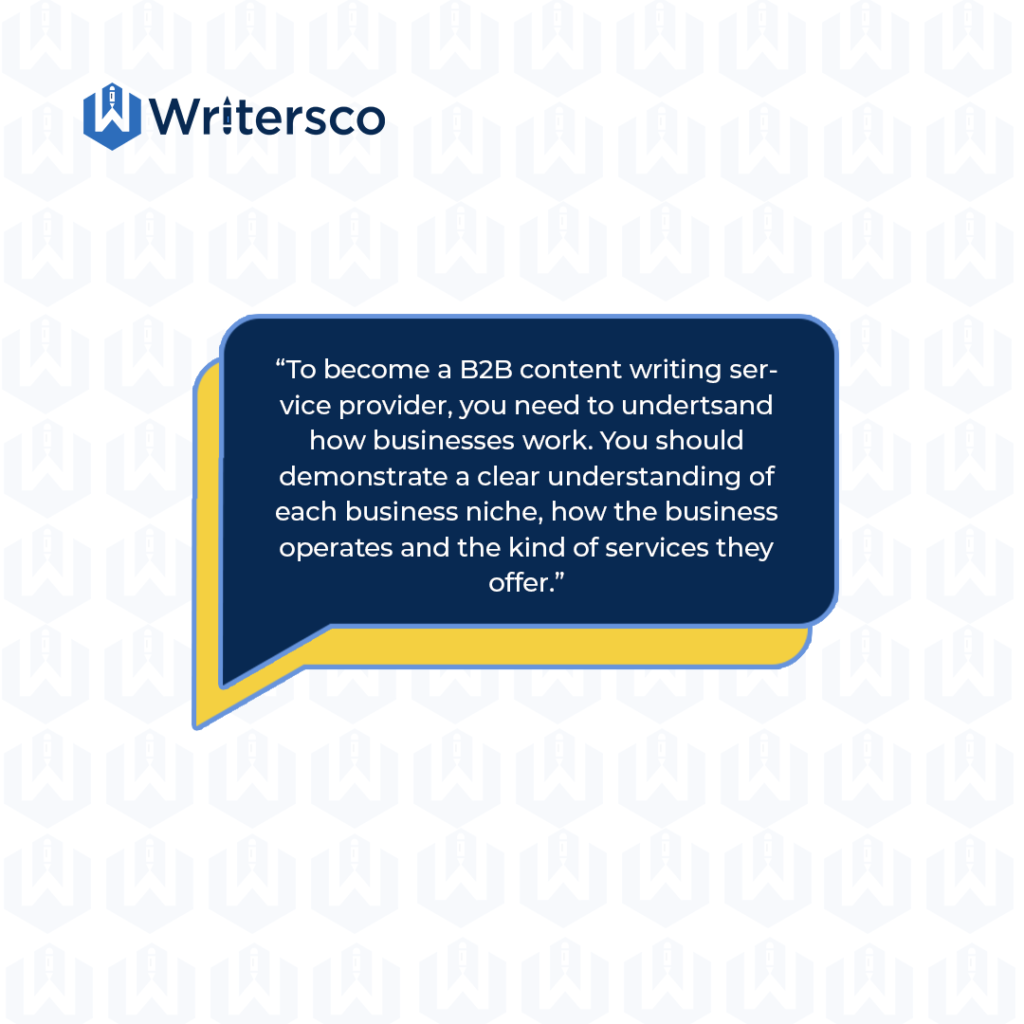 #3. Add Industry Insights and Data
It is critical to conduct research into market data and industry insights. This lends credibility to the content created through B2B writing. In addition, data and insights provide a practical way to persuade customers to buy products and services. Some of these insights may take the form of case studies, statistics, or examples.
For example, statistics from surveys could be included in newsletters or email campaigns sent to new or existing customers. As a result, market research can be useful in developing persuasive content that is appealing to customers.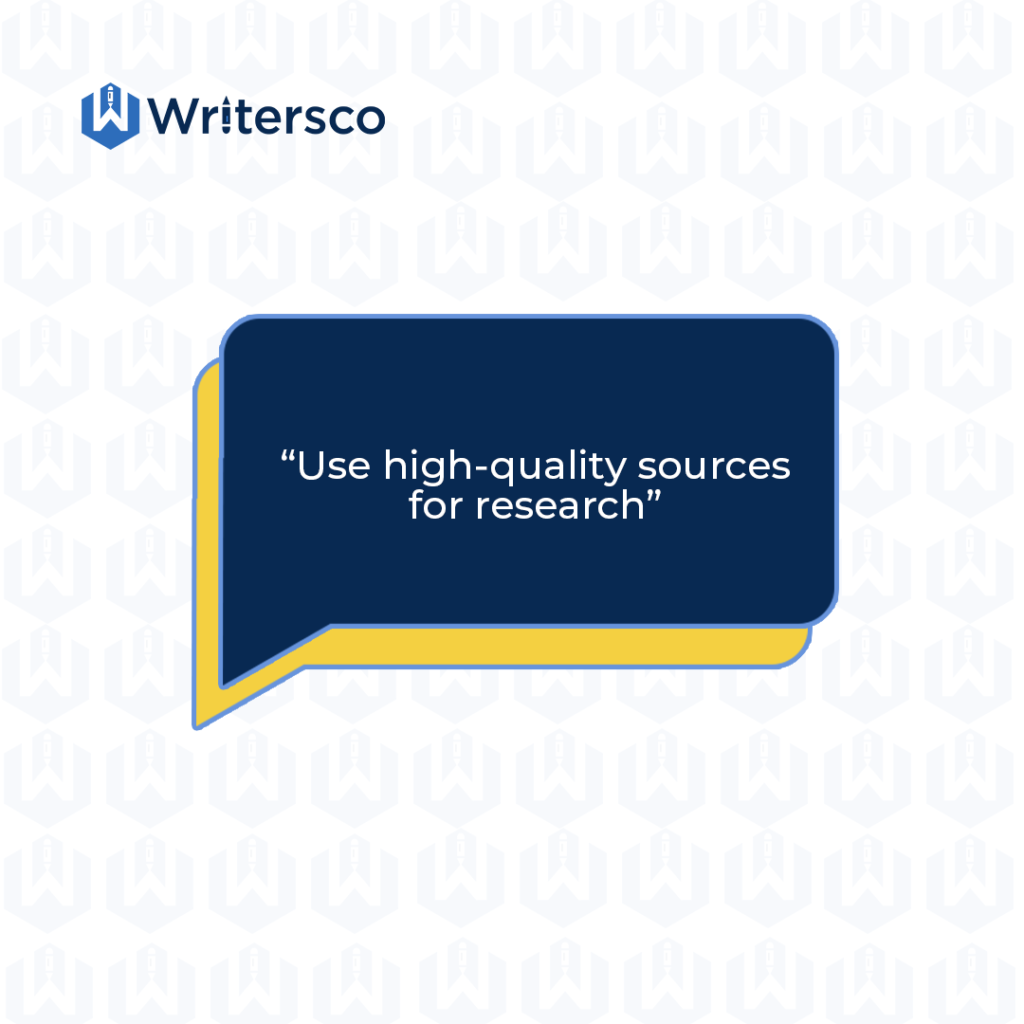 #4. Present Your Content in an Appealing Manner
A great idea and thorough research work can be quickly derailed by a poorly structured or difficult-to-read post. If your prospective customers are puzzled by what you have to offer, they are less likely to purchase it. Therefore, the information presented must be simple and enticing to the consumer.
For instance, a blog post may be broken down into smaller sections and paragraphs. This would make the content more organized and pleasing to readers. Always organize your writing, use captivating headlines, and keep your vocabulary simple enough for a beginner to understand.
You should also add graphics or videos to your content. They often help to simplify difficult concepts. If you have a concept explaining how different modes of transportation work, you can create a video tutorial or an infographic. This makes visualizing what you've written easier for your readers.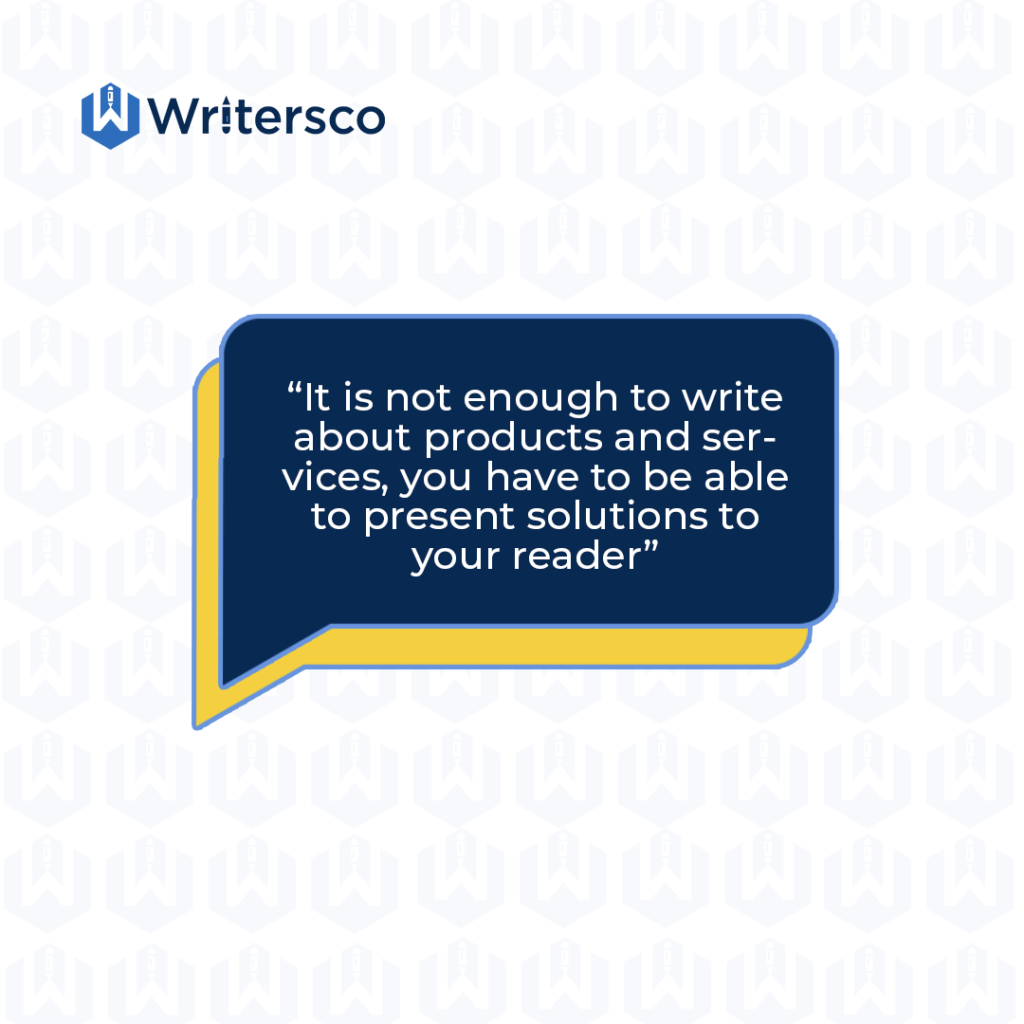 #5. Maintain Good Quality
B2B written content must be of high quality. The calibre of your writing will have an impact on your reputation. If your content contains a number of errors, it is possible that your brand will suffer. This means it has to be free of grammatical errors and other inconsistencies.
It is effective to always recheck and proofread any content before submission. You can make use of editing software such as Grammarly or Hemingway to eliminate blunders and improve quality of your text.
#6. SEO Optimization is Vital
SEO marketing is required for B2B written content to have an impact. Your text should be optimized for web search. Choose keywords for which you can realistically expect to rank. When possible, work on link building. To assist with optimization and keyword search, use tools such as SEO Writing Assistant.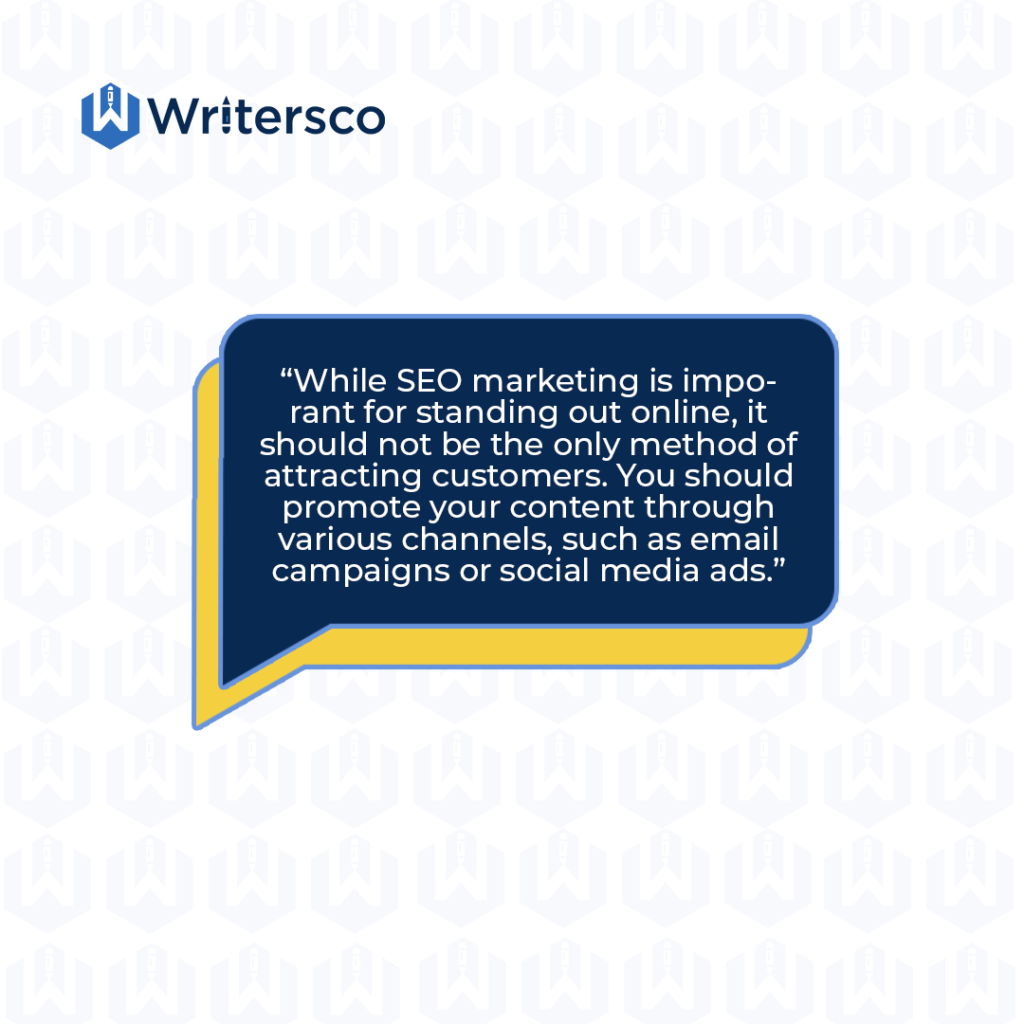 Conclusion
B2B writing can be particularly lucrative for writers. This article describes how you can get started as a B2B content service provider. It requires special tactics in order to deliver high-quality articles. By implementing the suggestions in this article, you will be able to create an even more enjoyable and useful strategy for your audience, guaranteeing that your writing delivers the expected results.