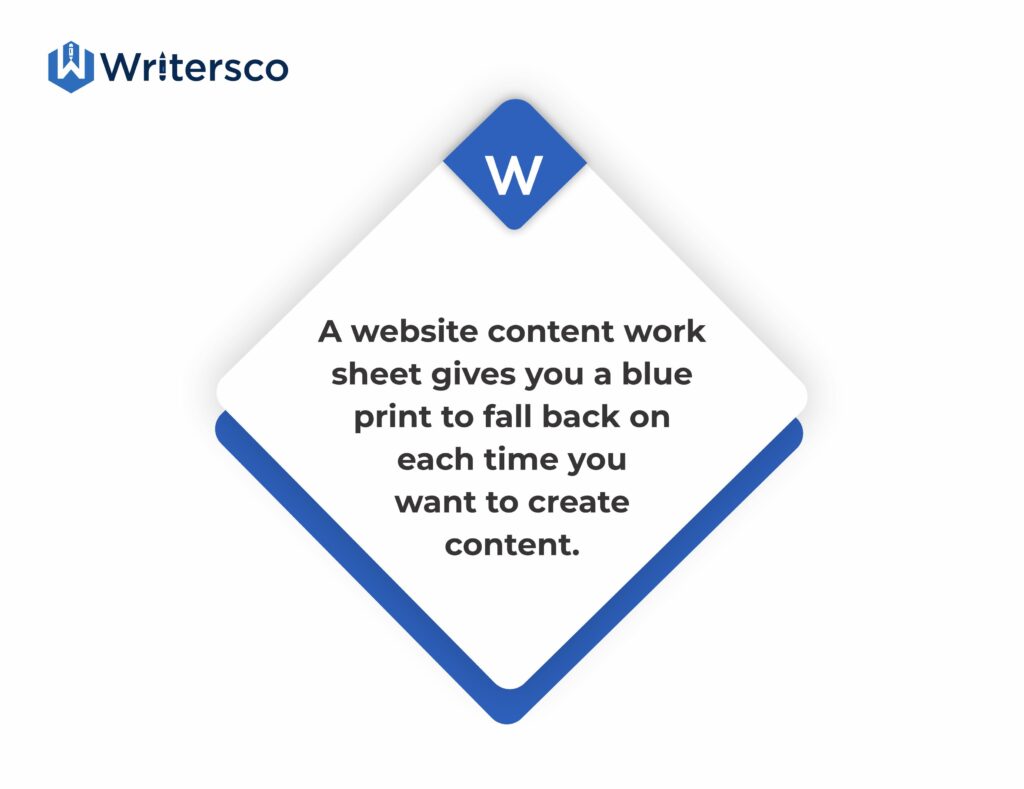 Your inconsistency in creating content might not be because you are lazy. The human mind is often boggled with so many things that you wonder how to decode tons of information. On the flip side, you might be wondering when you will start. You have possibly procrastinated for so long that you wonder if you ever will. Regardless of which side you fall on, using a website content worksheet will certainly help you.
To be honest, the struggle with content creation is real; you are not alone in it. Several other people have to overcome this hurdle daily. Oh, yes! Everybody wants to create content that sells. Nobody wants content that will simply gather dust on the internet with zero or no traffic.
You might need to consider having a website content worksheet to ease the content creation struggle. Calm down; we are in this together. We certainly will not leave you in the dark as regards what a content worksheet is all about.
What Is A Website Content Worksheet?
A website content worksheet is a preplanned schedule that guides content creation. It gives a blueprint to fall back on each time you want to create content. You could as well call it your content map if you so wish.
HOW TO CREATE A WEBSITE CONTENT WORKSHEET
Because your content worksheet is your content map, you need to deliberate. Failure to plan your worksheet well will be setting up your website for dormancy. Without wasting much time, let's delve into the things you need to put in place.
#1. What are your content goals?
It is not uncommon to hear the saying, "When the purpose is unknown, abuse is inevitable." Failure to establish your content goals will not make you unstable in content creation. As such, before you start-up, you need to ask yourself certain questions:
What is the purpose of the content you are creating?
Are you trying to acquire customers or create awareness?
Do you intend to educate, entertain or inspire your audience? What tools would you use to achieve this?
How would you measure the success of your content?
These are some of the questions you need to answer before delving into the creation of your worksheet. While some of your competitors may be after creating awareness, others may desire to educate clients. Another company could desire to use its content for comparison and validation. It is not a one-cap fit scenario.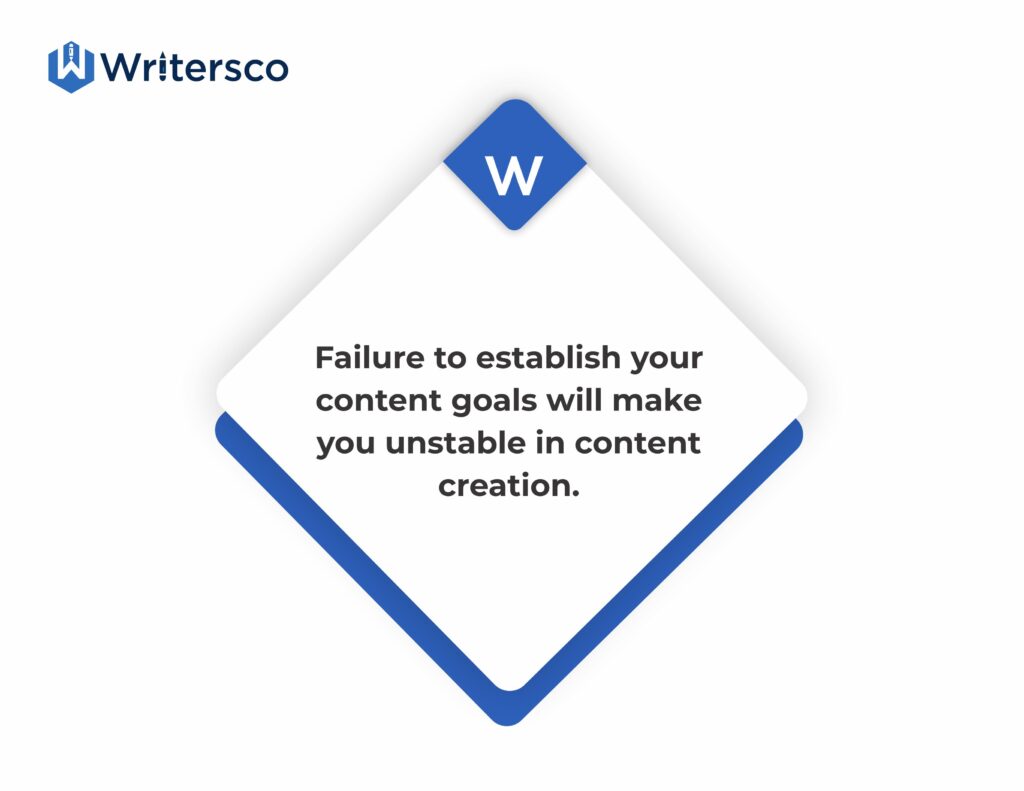 #2. Who Is Your Target Audience?
Having established what your content is all about, you need to establish your audience. Failure to determine your audience will water down the impact of your content. It will be like speaking college vocabulary to a toddler.
As a company, It is not just enough to create content, you need to have people consuming them. Your target audience will determine the language, tone, and build of your content. They determine the structure of your content. Every word, phrase, or symbol must be tailored to address them. To effectively do this, you need to know what they want. You need to have an idea about the information they are searching for.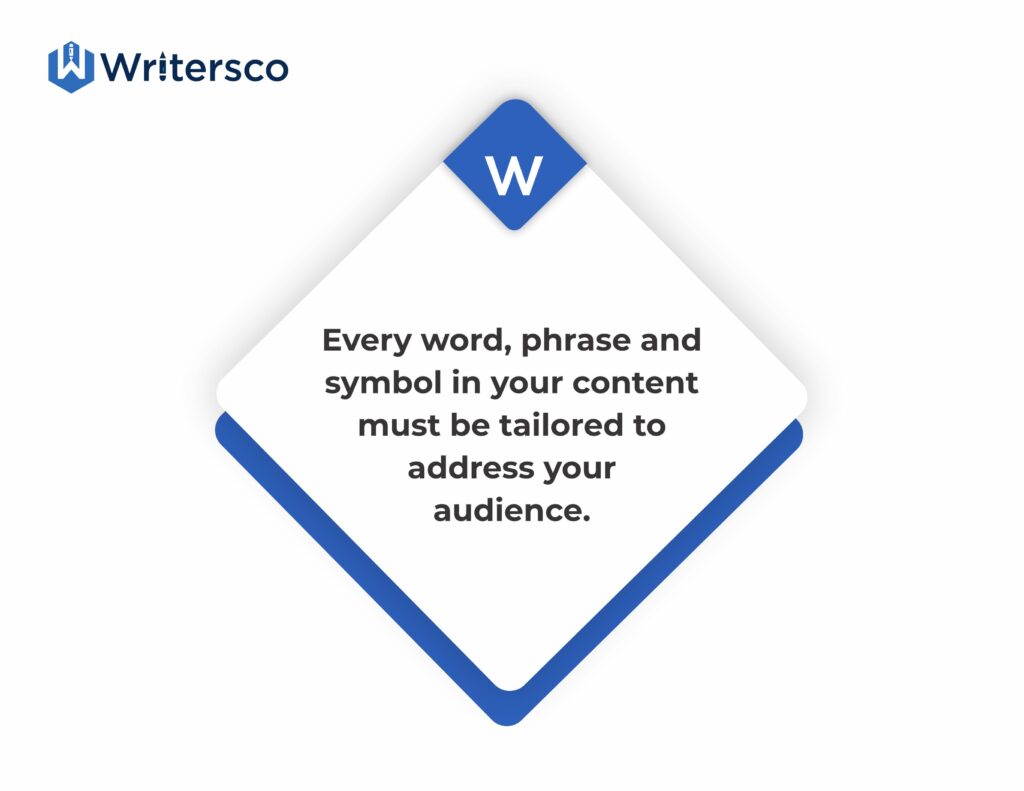 This is a part of the process a lot of people avoid. Now that you know your target audience, you need to probe your existing content. Do they fit your ideal consumer persona? Does your existing content portray your brand well?
You need to be truthful with yourself, irrespective of personal attachment to certain contents. To aid this process, you might need to check out the website of your competitors as well. What are they talking about? What is the layout of their content like?
Proper analysis and observation of such websites will give you insight into how to structure your content. Furthermore, it helps you to position yourself ahead.
#4. Create Your Website Content Worksheet
Now that you have cleared your website, you need to prepare to rebuild. In creating a worksheet, you should take note of the following components which must be included in your website.
1. Frequently Asked Questions
One major field that your worksheet should answer is frequently asked questions. Put yourself in the shoes of your customers and answer questions they would love to know about. One of such questions is the services you offer.
Most people are usually tempted to flood this field with tons of sentences. That doesn't help. Ensure that your services and products are described most concisely. Keep it simple and easy to assimilate.
2. What Makes You Unique?
You need to state what makes you stand out from other companies. Why should a consumer leave the former company he was loyal to for yours? What are your areas of specialty? What will consumers gain from you that they can't see anywhere else? You need to answer these in very clear terms.
3. How Can Customers Reach You?
Next on your content worksheet should be your location. Where is your company located? What areas does your company provide services to? Can customers walk into your office? What is the preferred of them reaching you? It's not enough for them to know you exist; they need to know how to reach you.
Having told them about how to reach you, what time can they reach you? Are visits to your office time restricted? What time do you close? Is your opening and closing time based on the day of the week? What time zone does your geographical location use? When questions like these are left unanswered, your customers may not warm up to you. After attending to these basics, you can now proceed to further things. You could include your awards and certifications. This will increase your credibility before proposed customers.
At this point, your site is in a reasonable state. However, that is not all.
4 SEO Research
You need to plan ahead for subsequent content that will come up on your site. To effectively do this, Conduct thorough SEO research. This research will hint you on topics your customers are searching for. Do not just select random topics; go for topics that will help you rank high. After selecting the topics, research the keywords for each of those topics. Simultaneously, decide the frequency of uploads you want to have within a time frame. Then apportion your researched topics to timelines.
To ensure you don't push out stale content, you could consider updating your worksheet on a monthly basis. This is because, in this time and age, trends change fast. Topics that are in high demand today will most likely become stale in a few weeks. And what increases traffic is the rate at which you are able to push out trending topics.
IMPORTANCE OF A WEBSITE CONTENT WORKSHEET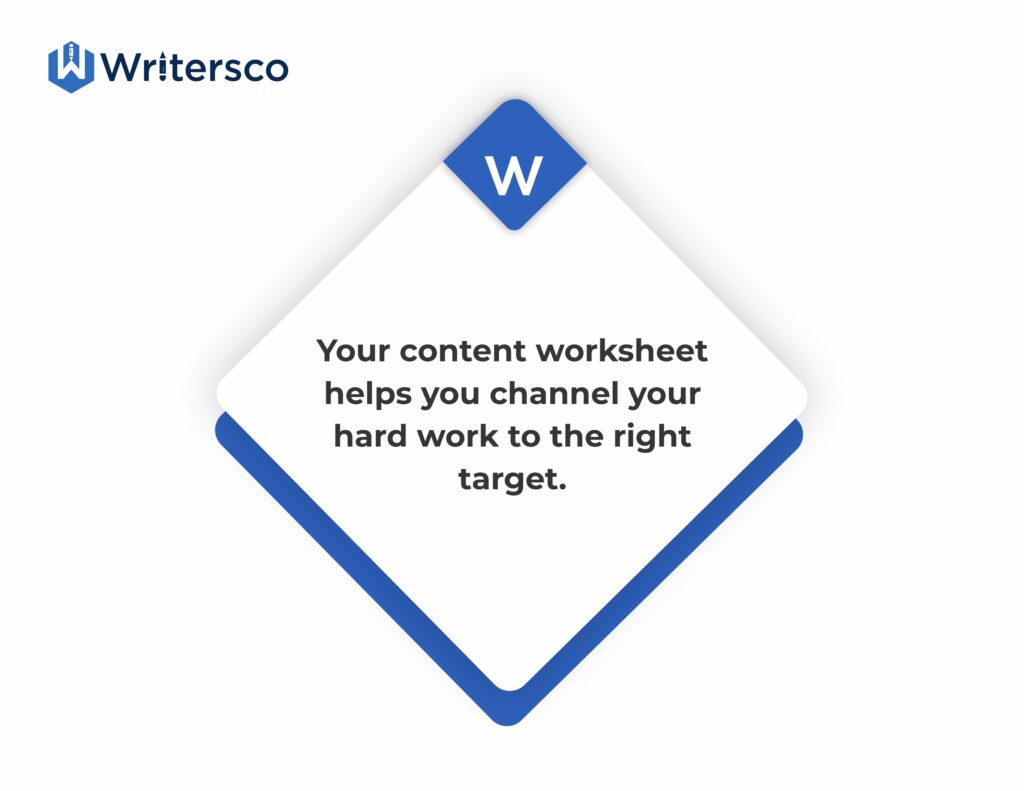 #1 They Help You Organize Your Content
Having a content worksheet brings order to your website. It eliminates all sorts of disorderliness and ensures that your content constantly brings value. Without a content worksheet, it is easy to get into a flow of just publishing what comes to mind. And what comes to your mind may not be what is topmost on your consumers' minds. Constantly repeating this cycle will make them avoid your website.
#2. The Help You To Build Consistency
Content creation is in itself a struggle. However, planning your worksheet ahead reduces the stress. This does not eliminate the fact that you will need to work hard. But it channels your hard work to the right target. At one glance, you will be able to spot what you ought to be doing. That in itself will put you on your toes. Thus, encouraging you to build your content. Furthermore, the worksheet ensures that you are consistently giving value to your consumers. This is because everything on the worksheet is tailored to suit their needs.
#3. A Content Worksheet Eliminates The "I must do it" Syndrome
Yes, you don't have to do it yourself. At several points, your hands may get so full that you cannot handle your website yourself. Since your worksheet is a guide, you can easily hand it over to someone else. Everything they need is on the worksheet, so you would not need to be bothered about them not doing the job as you would have loved.
Consequently, you will have more time on your hands, and your website will not lag behind.
#4. A Content Worksheet Ensures You Do Not Miss Any Important Thing
When your content strategy is only in your head, it is easy to make avoidable mistakes. Having your content worksheet spelled out eliminates such errors. This helps you to be more productive. It also aids your effectiveness and credibility as a company. This is because oftentimes, the strategy in your head is not a strategy. Until you write it out, you may not spot the mistakes in it.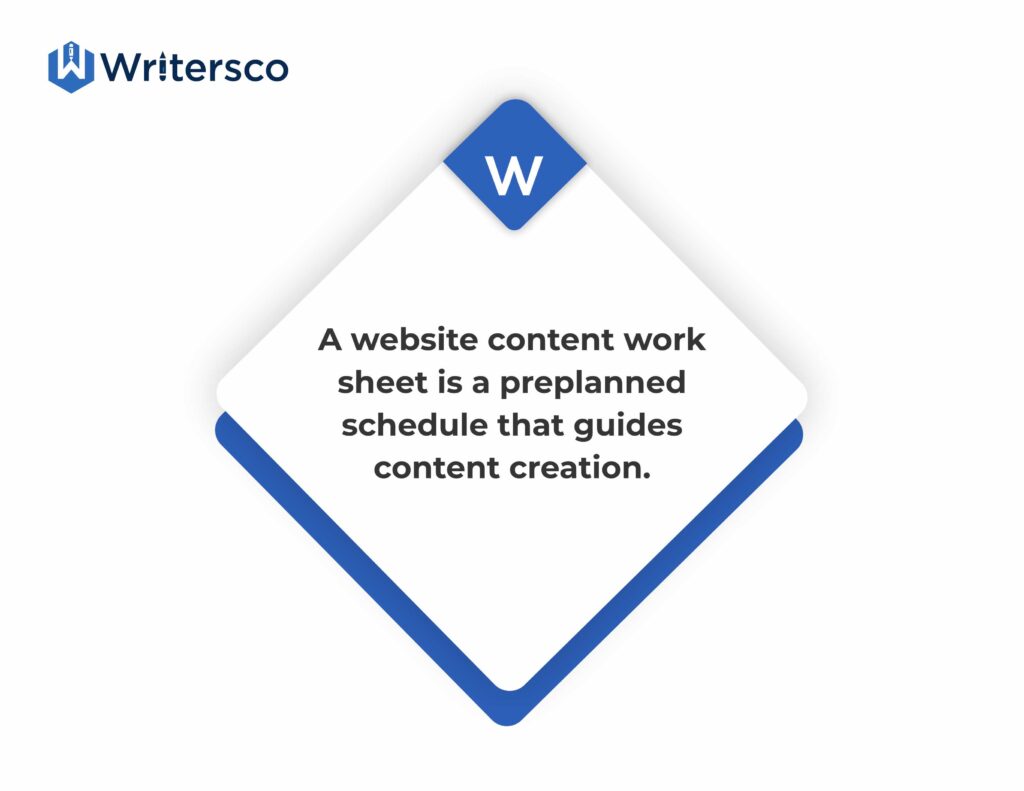 Now that you have learned about the website content worksheet, how are you going to apply it? If you simply read through and leave, your competitors will catch up with you and leave you behind.