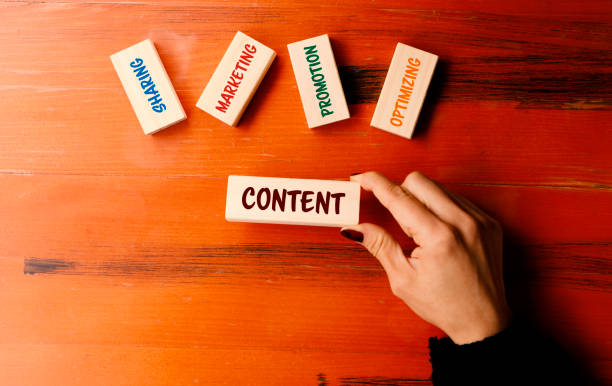 The 5 Easiest Ways to Buy Website Content for Your Business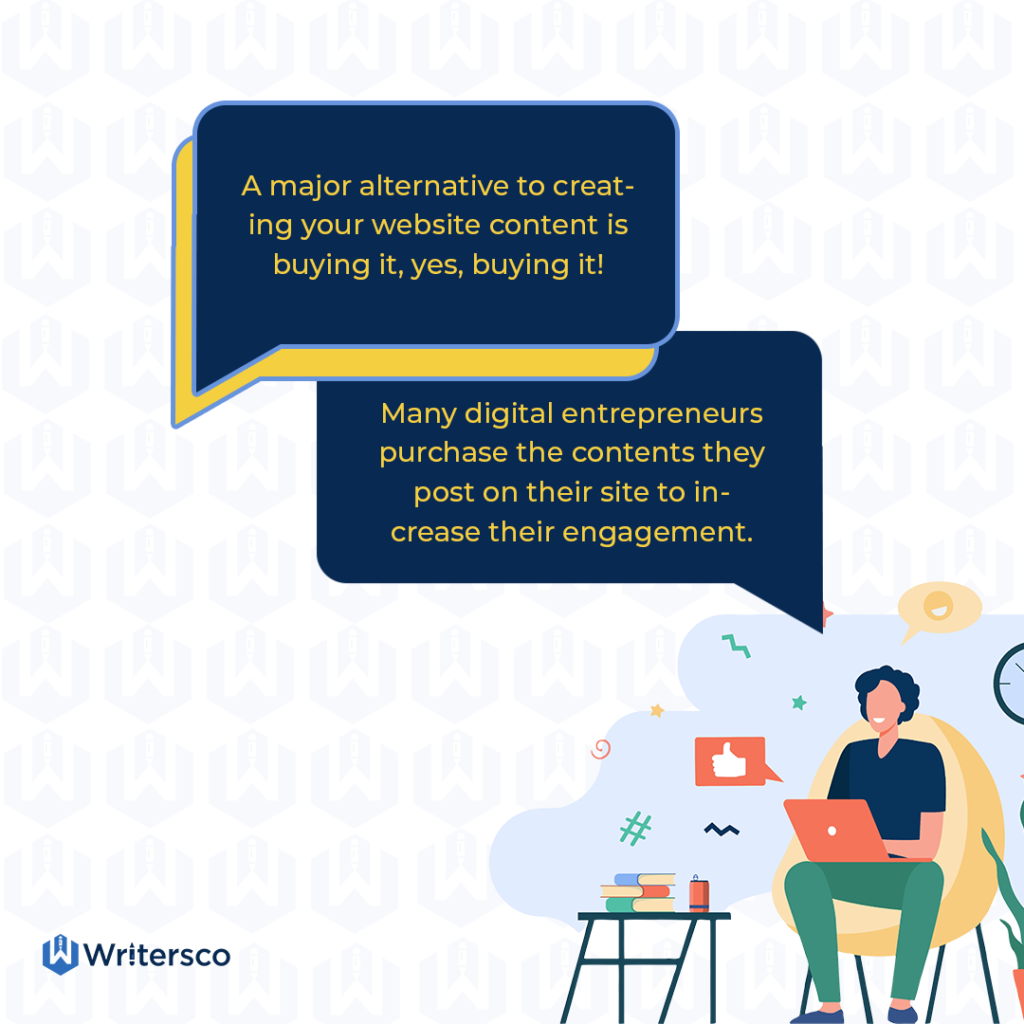 The need for good Web content cannot be overemphasized for a business this century. High-quality content is a significant part of a sound organic SEO marketing strategy.
Creating these contents by yourself can be pretty difficult and time-consuming. Sometimes it's always even hard to keep up with fresh and original content on the website.
A major alternative to creating your website content is to buy it, yes, buying it! Many digital entrepreneurs buy the contents they post on their website to increase their engagements.
To begin with, you must know that buying website content is legal. Buying content is less stressful, saves time, and ensures perfect content for your website.
This article will carefully check the easy ways to buy the perfect website content, and what to look out for in the website content you want to purchase.
What to Look for in a Website Content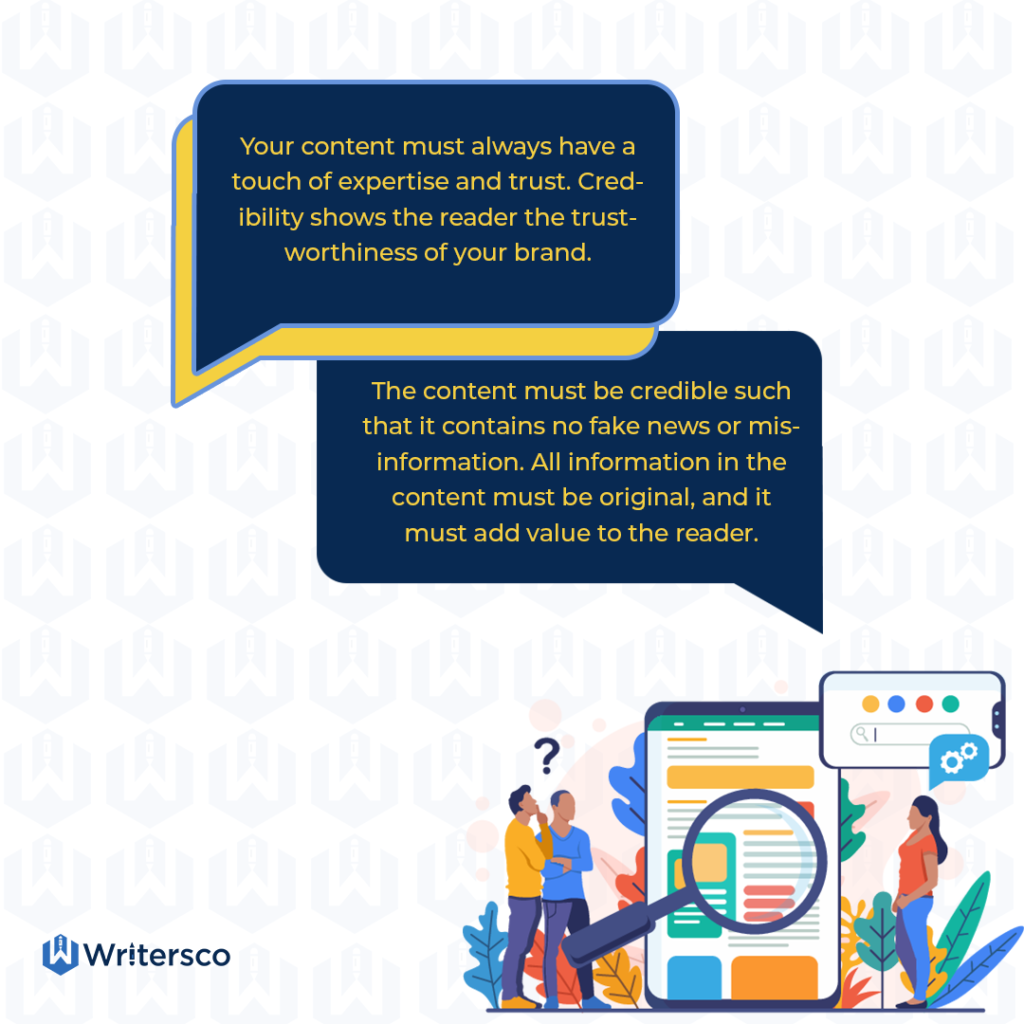 1. Relevant and Captivating Text
The Web contents must envelop your reader's attention from start to finish. When you buy website content, ensure that it must provide adequate and valuable information that your readers need.
The content you are going to purchase must be relevant to your business. It must also reflect your niche to be effective for digital marketing.
It is essential to look out for this because it determines if you're getting or losing a client.
2. Total Content Quality
Your website contents must be user friendly. Your content must be original and organic. See that your content is free of plagiarism; it should always be creative. Creative content gets high engagement from people that visit your website. When you buy Web content, ensure that your source makes high-quality contents standard. The content below the average that isn't relevant and readable will reduce your conversion rates and ruin your business.
3. Maintaining Brand Identity
Consistent maintenance of brand identity and voice is quite challenging when buying articles. Your brand identity and persona must reflect in the tone of the content. It involves using and placing keywords relating to your brand, ensuring that the volume is not too much to prevent the content from being stuffed with keywords. Going for cheap content won't achieve this because you must manage the writing and editing to ensure the effectiveness of the content when published.
4. Credibility
Your content must always have a touch of expertise and trust. Credibility shows the reader the trustworthiness of your brand. The content must be credible such that it contains no fake news or misinformation. All information in the content must be original, and it must add value to the reader.
Benefits of Buying Website Content
1. Immediate Delivery and Publishing
This build consistency in the publishing of content on your website. It helps you create a brand identity on the web and increases engagements on your site.
By purchasing website content, you can build authority by providing your target market with regular insightful information.
2. Increases Brand Awareness
Buying quality content is one way of getting your site to rank high on search engines like Google, Bing and others. These search engines rank websites with high quality content. The high ranking increases the amount of engagement and traffic that interacts with your site.
3. It Saves Time Getting Content for Your Business.
Creating content by yourself can be time consuming and bothersome. Buying content for your website saves you the time to make your content yourself, which helps you get content on your website faster.
4. It Contains Generally Fresh Content.
Making content involves conducting research, and this method requires a considerable deal of time. When you buy content for your blog, you avoid the procedure of researching and writing yourself. Ready-made content allows you to benefit from copywriters' vast knowledge and experience, content writing agencies and other sources. All contents you purchase from would be very fresh and original.
5. Caters for Lapses In Content Strategy
Every digital brand has a content strategy to work with. It is crucial to marketing because it shows how often and how much content will be published. Purchasing content online helps you follow your ongoing strategy without skipping a plan. It enables you to maintain a steady flow of content into your website. It also increases your brand awareness and engagements.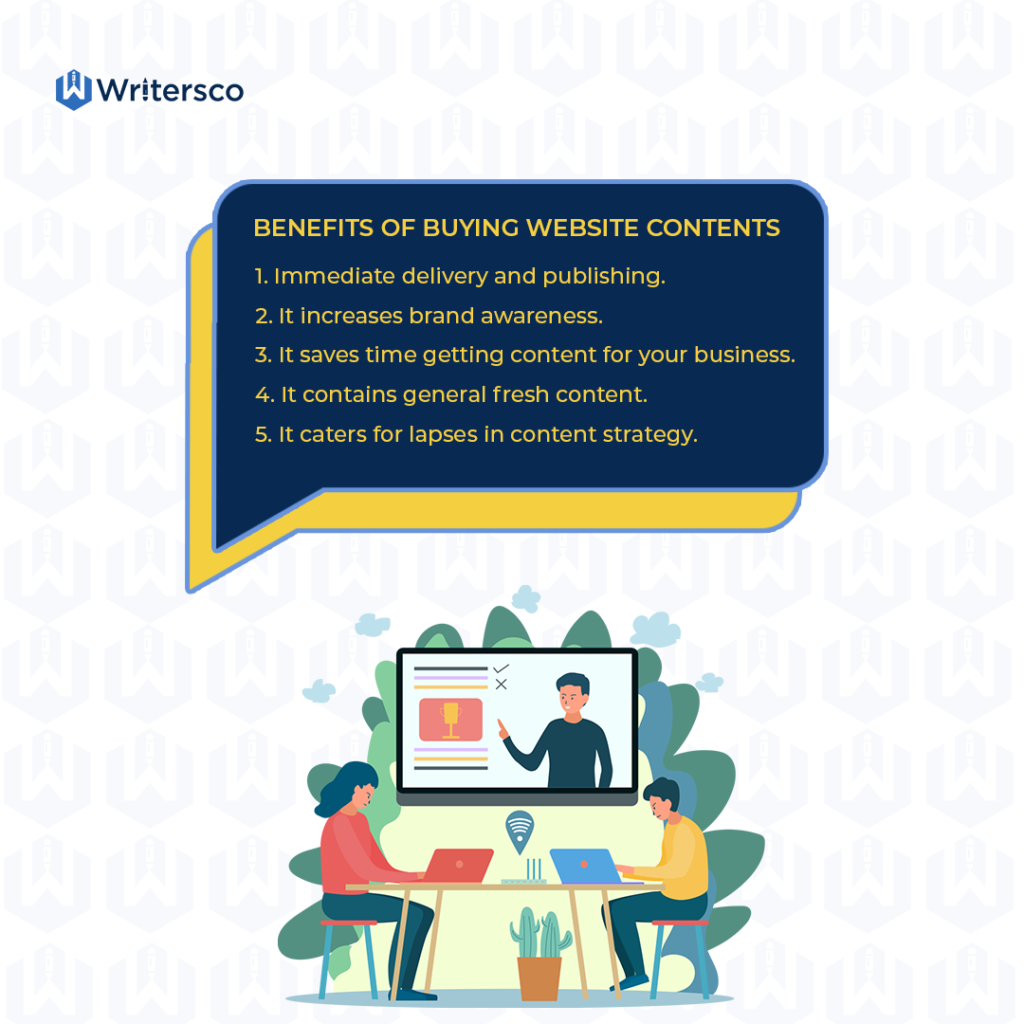 5 Easy Ways To Buy Website Content
Writing high-quality content is time-consuming. If you can't write it all in-house, you need a way to buy website content for your business. Here are five ways to procure website content for your business:
Recruiting Freelancers
Engaging a content writing agency
Using an article marketplace
Subscribing to AI writing tools
Paying contributors for a guest post
1. Recruiting Freelancers
There are plenty of freelance marketplaces — such as Upwork, Fiverr, Guru, and Freelancer — where businesses can post jobs and have freelancers apply with their resumes, examples of work, and rates per word or project. Freelance writers offer a flexible solution to scaling up your content strategy without committing to a long-term contract with a single writer. It is easy to find freelancers who can write about almost any topic. Depending on your content strategy, you can hire more than one freelance writer. The more freelance writers you hire, the more effective your publishing.
2. Engaging a Content Writing Agency
Another option is to engage an agency that specializes in content creation. These agencies work with writers who specialize in specific industries or types of writing — such as blogs, case studies, or white papers. They tend to be more effective than freelancers because they're staffed by veteran writers and offer more services, including proofreading and editing. A content writing agency can be the best choice if it has a strong reputation and high-quality writers on staff. The most significant advantage with an agency is that they will deliver large volumes of work consistently whenever you need them to. All you need is to give them instructions and define the requirements for each piece of work. Unlike hiring freelancers, content writing agencies charge on a per-project basis, making it a lot easier and more affordable.
Some of these agencies, such as WritersCo, focus on providing a complete end-to-end solution from content strategy through to publishing.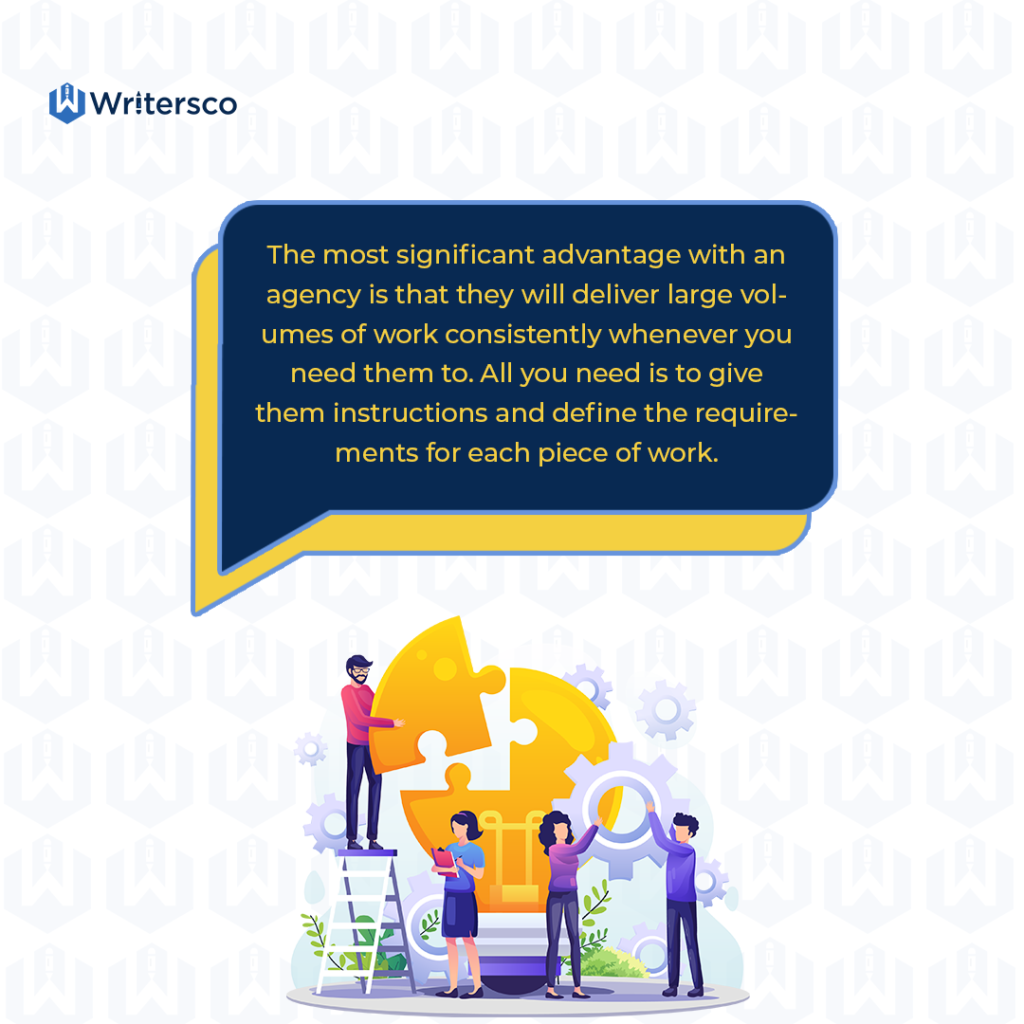 3. Using an Article Marketplace
These services let you purchase "packaged" articles in bulk at lower prices than an agency. You can buy essays based on different word counts or topics. These marketplaces are common for academic research papers. In any case, this option might be good for businesses that know exactly what they want in terms of topic and length and don't want to spend too much money doing so. If you need to flesh out specific details and requirements, a content writing agency is better-placed to fulfil your needs.
4. Subscribing to AI Writing Tools
AI writing tools like JasperAI and CopyAI use artificial intelligence to generate customized articles at scale. Such tools will help you create article ideas and write the posts or pages for your site without much input. However, even though AI tools are pretty savvy nowadays, they cannot communicate as effectively as humans. So, much of AI-generated texts may not represent your brand as well as you want. In the end, you would find out that you can't eliminate human input from the entire process.
5. Paying Contributors for Guest Posts
Another way to procure website content is to pay contributors for guest posts. There are various methods of going about this. One way is to post on social media that you're looking for paid guest posts by content writers. It can get you some good-quality submissions. If you have the time, another effective way is to reach out directly to established industry bloggers that may be interested in sharing their knowledge on your blog in exchange for payment. The difference between paying contributors and engaging freelancers is that you do not hire contributors, and they have no obligation towards your website. It may result in an inconsistent content flow.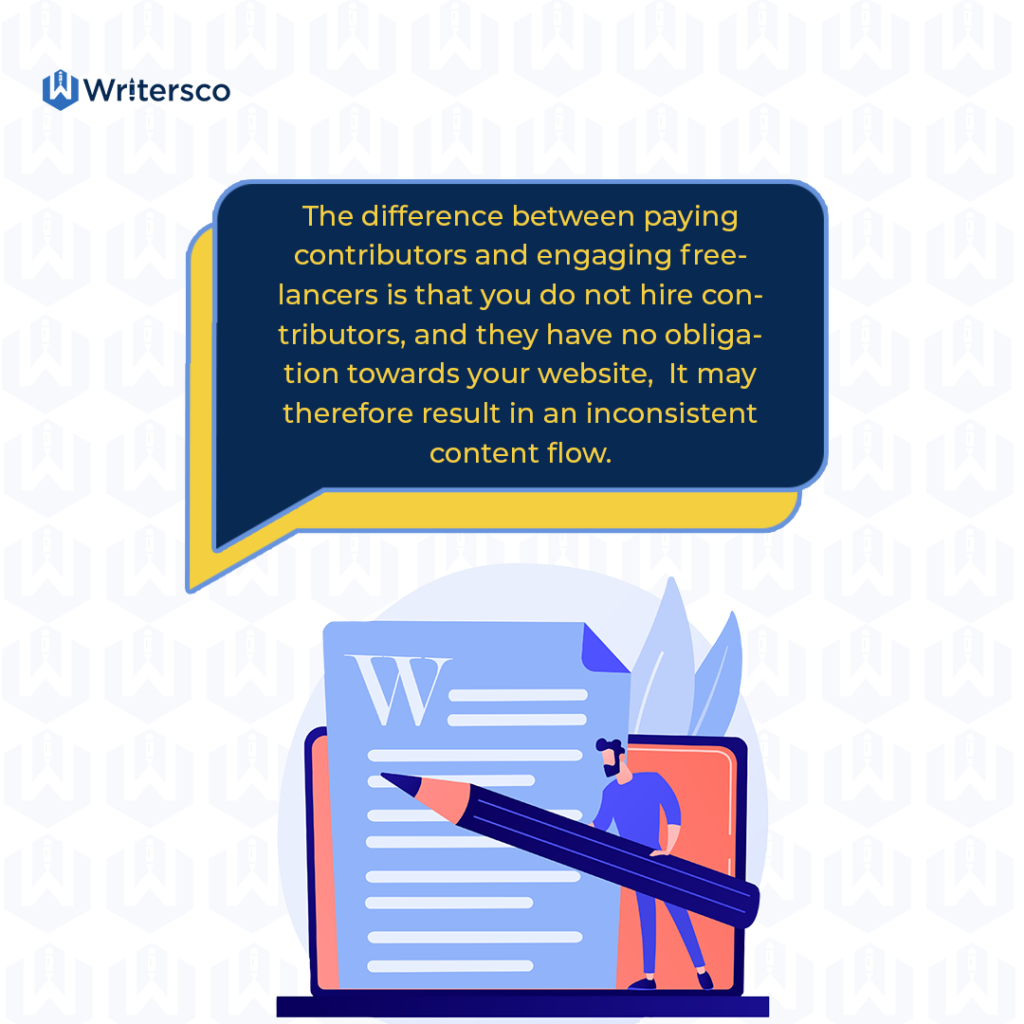 Conclusion
Purchasing content is a great opportunity for your business, but you need to be sure to do it very well. Always think that purchasing web content is a way to work with someone to create the content you need for your business. You are still totally in charge of what is going up on your page, and you are still in the knowledge of whether that content meets your goals.
Before undertaking this task, you need to outline your goals and understand your target audience carefully. It helps the platforms where you buy your content know what they have to do.
One of the best buying sources is hiring a content writing agency. This agency would work with you consistently and ensure that your contents have the same tone. Take your time to evaluate each part of the process. We can assure you that purchasing content can become a sustainable part of your business model.